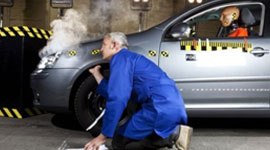 Bestech Australia's expanded scope of accelerometers, pressure & displacement sensors, microphones, data acquisition systems, as well as colour sensors covers increasing demands of automotive manufacturers in crash testing, transmission & engine testing, ride quality testing, R&D and NVH testing, detailing & painting, quality assurance and so forth.
The highlights of our products are:
Minimal mass loading
Broad frequency response
High-output
High-impact shock & vibration (linear range up to 2,500g)
MEMS based, undamped to minimize phase shift
Online spectrum colour measuring system
With Head Office based in Melbourne, Bestech Australia has a unique advantage of engaging the business with local automotive manufacturer and assembly factories.
A wide range of measurement system are provided by Bestech Australia to facilitate measurements in the automotive sector.
Laser triangulation sensors
Laser profile scanners
reflectCONTROL sensors
surfaceCONTROL sensors
Eddy current sensors
Capacitive Displacement sensors
Temperature sensors
Color sensors