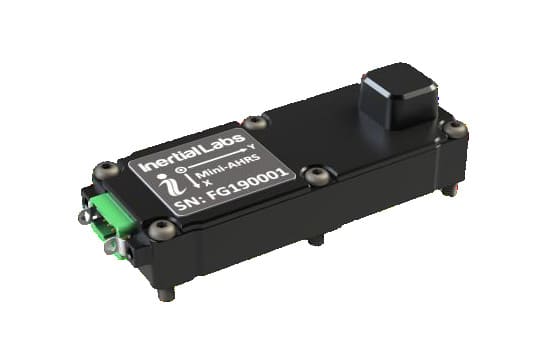 The inertial Labs miniAHRS (Miniature Attitude and Heading Reference System) is the high-performing strapdown system that incorporates 3-axes of accelerometers, gyroscopes and magnetometers. This precision sensor-fusion determines absolute orientation including pitch, roll and heading of an object over which it is placed. miniAHRS owes its high-frequency, real-time measurement of the object about its 3-axis to the cutting-edge Kalman filter-based algorithm.
The miniAHRS system is mounted in the robust and waterproof IP67-rated housing to protect against harsh weather conditions. Apart from the exceptional price performing ration, its compact design further adds to its prominent key features. This mini AHRS system has no moving parts and each component used inside it is in solid-state. 
The use of mini Fluxgate magnetometers in the mini AHRS system offers it high sensitivity, superior stability and repeatability. This technology is highly dependable and provides an accurate reference to the North.
It is this accuracy that makes Miniature Attitude and Heading Reference System pertinent in Primary Attitude Reference applications. Its high-grade technology makes it functional for different dynamic motions of Robots, UAV (Unmanned Aerial Vehicle), UUV (Unmanned Underwater Vehicle), UGV (Unmanned Ground Vehicle), AGV (Automated Ground Vehicle), ROV (Remotely Operated Vehicle), Antennas and Gimbals. 
| | |
| --- | --- |
| PARAMETER | miniAHRS System |
| Operating Temperature | -40 to +75 deg C |
| Size | 53 x 19 x 13 mm |
| Weight | 20 gm |
| Measurement Range | ±2000 deg/sec |
Enquire Now