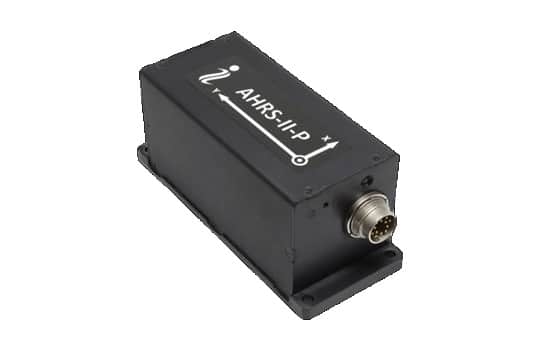 The inertial Labs AHRS-II-P (Attitude and Heading Reference System) is the next-generation of high-performing strapdown system which utilises the Tactical-grade IMU. It consists of 3-axes of accelerometers, gyroscopes and in-house technology of fluxgate compass. This fluxgate compass is a gyro-compensated, ultra-high precision device that gives accurate heading, pitch and roll of the device that is under measurement.
It is this implementation of fluxgate magnetometers in AHRS-II-P system which provides it superior stability, high sensitivity and repeatability. This technology has a long-proven history providing an accurate reference to North making it the most reliable magnetic sensor for establishing the object's heading.
The InertialLabs AHRS-II-P is fashioned in an intricate leading-edge Kalman filter-based algorithm. The AHRS system's sensing elements are fully temperature calibrated. Its added feature of IP67-rated housing allows protection against harsh-weather conditions across temperatures. 
With applications in Primary Attitude Reference and Marine industry, Attitude and Heading Reference System (AHRS-II-P) encompasses a key success system. It successfully supports different dynamic motions of UAV (Unmanned Aerial Vehicle), UUV (Unmanned Underwater Vehicle), UGV (Unmanned Ground Vehicle), AGV (Automated Ground Vehicle), ROV (Remotely Operated Vehicle), Aircrafts, Helicopters, Vessels, Antennas and Gimbals.
Key features:
| | |
| --- | --- |
| PARAMETER | AHRS-II-P System |
| Operating Temperature | -40 to +70 deg C |
| Size | 120 x 50 x 53 mm |
| Weight | 280 gm |
| Measurement Range | -600 to 9000 m |
Enquire Now