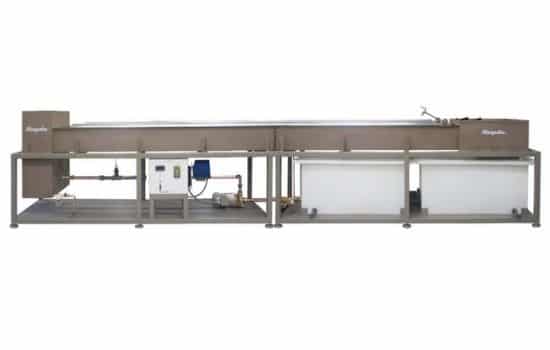 The hydrology Mobile Bed and Flow Visualization Tank Demonstrator is designed for educational institutes to investigate flow visualization and mobile bed situations in relation to Civil Engineering structures. The training equipment helps students in the study of two fields:
Mobile beds are particularly related to civil engineering structures and watercourses.
Visualization of flow in two dimensions.
It incorporates sediment well with a removable Lexan® cover for mobile bed investigations. The teaching equipment is self-contained and consists of the inlet tank working section, with sand trap, outlet tank with adjustable overshot weir, pump, control panel and model set.
Experiment Capabilities:
Flow bed visualization
Erosion and deposition
Velocity distribution in duct flow
Flow around models
Meandering watercourses
Model testing
Mobile bed models
Boundary layer suction demonstration
Specifications: 
Dimensions and Weights:
Length: 230" (5842mm)
Width: 34" (863.6mm)
Height: 50" (1270mm)
Weight: 1200 lbs (545kg)
Cu.ft.: 226.3 (6.4m3)
Enquire Now