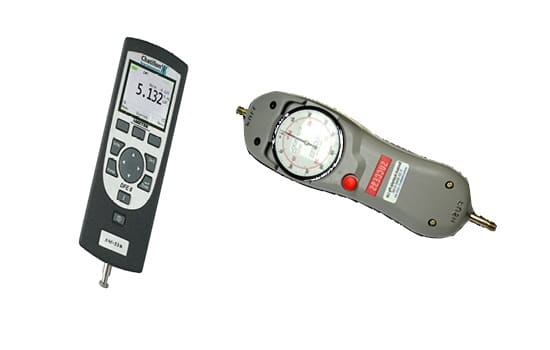 In order to optimise their products and achieve maximum performance and safety with minimal cost, manufacturers put their products and material to test. These tests include determining the conditions in which a material, component or product could break or become loose. For example, A force gauge is used for tension and compression testing in these conditions to measure tension forces used to destroy metal pipes or wires or to evaluate how compression forces, push and pull forces affect car seats during an automobile accident. It is basically used to measure a variety of forces such as tension, compression, peeling force, or adhesion.  It is employed in material testing, quality control and assurance, research, development, product testing, laboratory and educational applications.
Our economical force gauges are mainly designed for applications where users are interested in basic and complex peak force measurements. They feature a high-resolution DOT matrix LCD display with a huge variety of standard gauge functions. These force gauges are ideal for hand-held and test applications with an optional handle set available for two-hand operation.
We mainly offer two types of force gauges including digital force gauges and mechanical force gauge. The digital force gauges are designed for either handheld or test stand mounting. They offer the best price performance value and high precision. The mechanical force gauges offer high precision compression and tensile testing at low cost. They come with a mechanical overload feature to protect the gauge from damage. Some of these force gauges come with a protective carrying case and a set of stainless steel attachments.
Measuring range: 1 to 5000 N
Accuracy: ±0.1%  to ±0.5%
Operating temperature: -17°C to 54°C
Some common applications of force gauges are:
Tensile or compression testing
Test stand applications
Physical medicine, occupational medicine and sports medicine applications
General patient assessment in family, neurological and orthopedic practices
Ergonomic evaluations
Job task analysis
Functional capacity and muscle strength analysis
Enquire Now