Bestech Australia offers a broad range of products for the measurement of applied force and load. Force transducers and load cells are available in avariety of capacities and constructions for every application.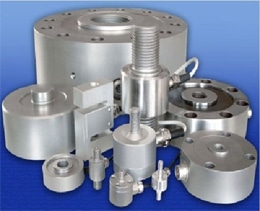 Types:
Load cells for tension, compression only or both
Double range load cells
S Type universal load cells
Load pins and single point load cells
Shear beam load cells
Centre hole / through hole constructions, low height
Multi axial force transducers for measurements in more than one axis
Miniature / Subminiature load cell, compact design
Submersible load cells for submarine mooring line application
Heavy duty loadcells for use in various harsh environments
Hermetically sealed loadcell
Pancake load cells with low profiles
Fatigue rated load cells
Proving ring testing
Hand-operated press fit load cells
Highlights:
High accuracy
High overload protection
High temperature stability
Excellent price/ performance ratio
Excellent consistency and durability, with materials such as stainless steel and nickel plating
For more details pleases download product brochure 
here
.
Products
Capacity
Accuracy
Overload Capacity
Display Characteristics
Mechanical Force Gauge
LG Series
1-500N
±0.5% FS
110%
0.5% FS (dial resolution)
DG Series
100-2500N
±0.5% FS
110%
0.5% FS (dial resolution)
Digital Force Gauge
DFX II Series
50-1000N
±0.3% FS
150%
High resolution, dot-matrix LCD 8 lines, 21 characters
DFE II Series
10-2500N
±0.25% FS
150%
10 Hz (update rate)
DFS II Series
2.5-5000N
±0.1% FS
150%
10 Hz (update rate)
DFS II R Series
2.5-5000N
±0.1% FS
150%
10 Hz (update rate)
DFS II R ND Series with SLC Load Cell
2.5-5000N
±0.1% FS
150%
10 Hz (update rate)
Ergonomic Gauge
MSE100 Series
225-500N
±0.5% FS
Operating mode: – Normal – Peak Strength
Dial indicator displays peak strength
DMG Series
1-2.5kN
±0.5% FS
110%
0.5% (dial resolution)
Enquire Now