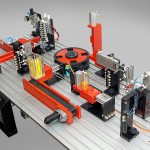 This mechatronics system is an exceptional system, designed for free-form automation application design i.e. modules can be configured into many number of grouped or stand-alone exercises. It is a customer-favorite for CAPSTONE projects.
The mechatronics system can be reconfigured by removing and repositioning modules to create different processes and programmed using the PLC software. The teacher can introduce faults into the system for the students to troubleshoot and fix, thus teaching them automation troubleshooting techniques.
The system is built with the following modules: belt conveyor, capacitive sensing, rotary pick & place, linear pick and place, horizontal transfer, push, rotary indexing, dispensing, assembly, screw fastening, print, pneumatic system.
Advantages
Sensors
PLC
Pneumatics
Troubleshooting
Inspection
Motors
Operations
Transfer Mechanisms
Features
Dynamic system that can be modified by users
Ideal for CAPSTONE projects
Easy to assemble
Easy to connect
Realistic design & execution of automation
Modular approach to create different projects
Approach from a user's and designer's role in designing and simulating integrated circuit (Pneumatic, Hydraulic, Electrical, Electronics and PLC).
Concepts Covered
Sensors
PLC
Transfer Mechanisms
Pneumatics
Assembly Operations
Automation Design for CAPSTONE
Troubleshooting
Inspection
Motors
Operations
Testing and Sorting Operations
Enquire Now