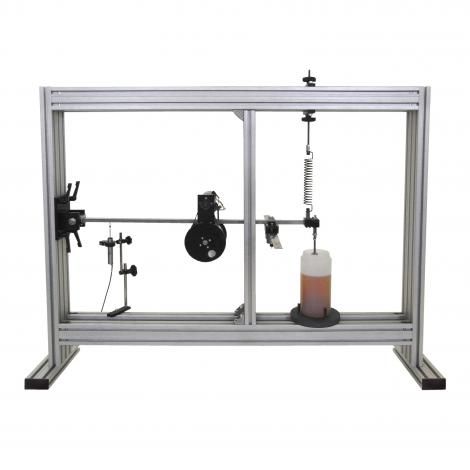 The HVT-12 Universal Vibration Apparatus training equipment is designed for educational institutes to give an understanding of the study of both free and forced vibration, resonance and damping. The Universal frame equipment is an excellent visual demonstrator that comes with the non-contact technology for beam displacement. The training equipment enables students to easily assemble the experiments, study the theory of vibrations practically. It allows practical demonstration of different laws of vibration such as single degree of freedom, resonance, natural frequency, Newton's second law, Hook's law, Conservation of energy, Aeronautical engineering, Mechanical engineering and Structural engineering.
Experimental Capabilities:
Spring Stiffness
Resonance frequency
Active and Inactive damping absorber
Free vibration
Forced vibration
Damped vibration
Damping ratio
Tuning of damping absorber
Amplitude response and phase response
The HVT-12 Universal Vibration Apparatus is training equipment used for the study of both free and forced vibration. It allows instructors to visually demonstrate the laws dealing with vibration, resonance, damping, stiffness, and much more. The equipment hardware consists of Vibration frame HVT12F along with all the necessary accessories required to perform experiments including a data acquisition system for analysis of recorded data. Besides, additional ancillaries such as HVT12A- Pendulum module, HVT12B-Torsional oscillation module are also available that can be used with HVT12 for a variety of experiments.
Technical Specifications Frame: 1380mm (L) x 1500mm (H) x 310mm (W) Beam: 25.4(W) x 12.7(H) x 840(L)mm, coated steel
Enquire Now