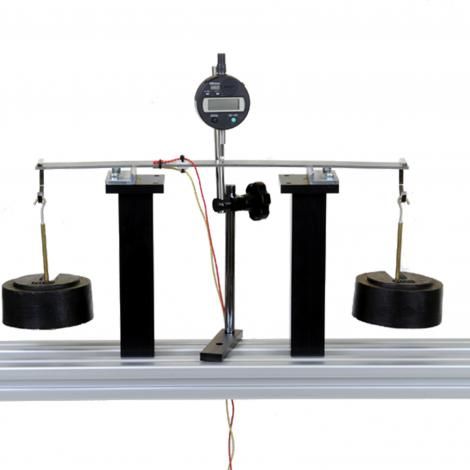 The HST35 Strain Measurement of Structures training equipment is designed for educational institutes to investigate the use of electrical resistance strain gauges for the measurement of bending and torsion stresses. The education equipment comprises two beams supports with interchangeable knife edges which enable five different test specimens to be set up in different cantilever and beam arrangements. The entire training equipment kit is available with tools and an instruction manual to perform the different laws of strain, bending theory, stress, gauge factor, the radius of curvature and modulus of elasticity.
Experimental capabilities:
Determination of the gauge factor.
Comparison of experimental results on different materials with strain/stress conversion using Young's Modulus.
Separation of combined bending and torsion on a hollow square section cantilever.
Understanding of Stain Gauge setup.
Different Clamp Arrangements.
Weights & Dimensions Weight: 30 kg Length: 630mm Width: 340mm Height: 220mm Operational Conditions Storage temperature: -10°C to +70°C Operating temperature range: +10°C to +50°C Operating relative humidity range: 0 to 95%, non-condensing
Enquire Now