Eco friendly wireless temperature and humidity sensors with integrated data loggers are highly sustainable products featuring ultra low power consumption, wireless fully autonomous sensors, various transmission protocols, network supervision / monitoring software open to core business, etc. The EcoSensor wireless system is perfectly for environmental studies and monitoring tasks whilst saving dramatically on technician intervention comparing to wired instruments.
BeanAir® EcoSensor Series are wireless IR temperature & humidity sensors with integrated data logger that stand out for their ultra-low wireless technology (7yr battery life) and a storage capacity of 1 million data points.
Find more on how to select EcoSensors please click here.
Products
Measuring ranges
Measurement accuracy
Sensor accuracy
Sensor Technology

Wireless data logger with integrated temperature sensor
ONE T
-50°C to +150°C (std. accuracy)
±0.1..±0.3°C
0.0034 – 0.1°C
Silicon temperature probe – Probe watertightness: IP67
Mechanical assembly type: steel tube

Wireless temperature & humidity data logger
ONE TH
-40°C to +85°C
0 to 100%RH
±0.2°C (0-60 °C)
0.015°C (res.)
±1.8% RH (10-80% RH)
Thermistor

Wireless temperature IR datalogger
ONE TIR
-40°C to +85°C for ambient temperature (Ta)
-70°C to +380°C for object temperature (To)
CF.IR Temperature Table
0.02°C (res.)
Thermopile

Wireless pulse data logger
ONE BN
0-24V (Low level Input: 0-0.4V / High Level: 2.3-24V)
–
-95.5..-104 dBm (receiver sensitivity)
Ultra-low power
Lithium-thionyl chloride
Based on inertial MEMS (Micro Electro Mechanical Systems) technology, BeanAir®'s line of wireless sensors, wireless data acquisition systems allow engineers to build their own architecture of wireless sensor network that enables remote monitoring and control tasks.
Wireless sensor network gives the option to work away from the measurement sites, collecting and processing data without hassle or potential safety and health hazards. A wireless sensor network is composed of a wireless sensor (integrated with sensor power supply, micro-controller, radio transceiver and a data logger) and a network indoor / outdoor coordinator if required.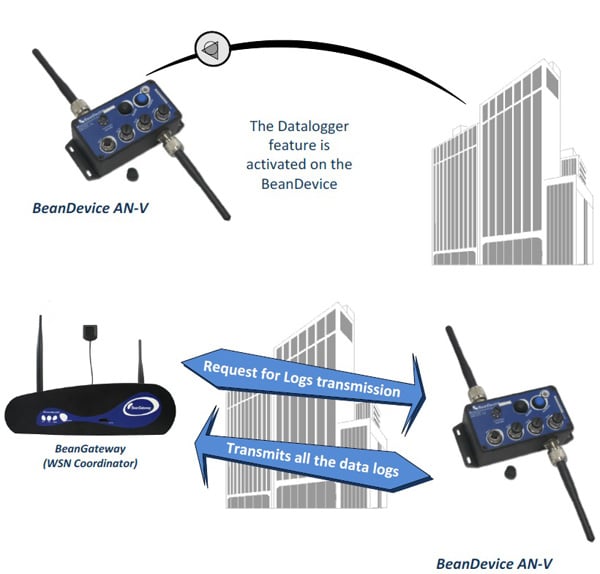 BeanAir Sensors work on a network. You will need a sensor (BeanDevice), a coordinator (BeanGateway) and an application (BeanScape) in order to form your network.
BeanGateway is the network coordinator that coordinates between all the wireless sensors in the data acquisition network and the user work station.BeanAir® Wireless Sensors are based on MEMS (Micro Electro Mechanical Systems) technology and IEEE808.15.4 &GSM/GPRS wireless stack for platform communications. User can monitor and control the measured physical conditions (e.g. temperature & humidity, vibration, pressure, etc.) from their computer by installing the provided management software.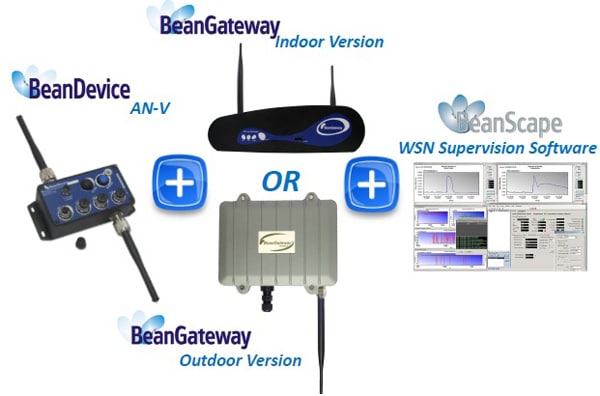 Suitable remote applications include:
ONE-T
Technical building management;
Cold chain traceability;
Medical lab & white room;
Solar panels monitoring;
Transport.
ONE-TH
HVAC;
Cold chain traceability;
Medical lab & white room;
Agriculture & greenhouse;
Environment.
ONE-TH
HVAC;
Cold chain traceability;
Medical lab & white room;
Agriculture & greenhouse;
Environment.
ONE-TIR
Railway temperature control;
Industrial temperature control of moving parts;
Gas detection;
Plastic, glass & metal processing;
Movement detection;
Chemistry & pharmaceutical industry;
Automotive diagnosis.
For more information, CONTACT US now with your application details.
Enquire Now