New, Flexible Force Testing Solution with Chatillon TCM series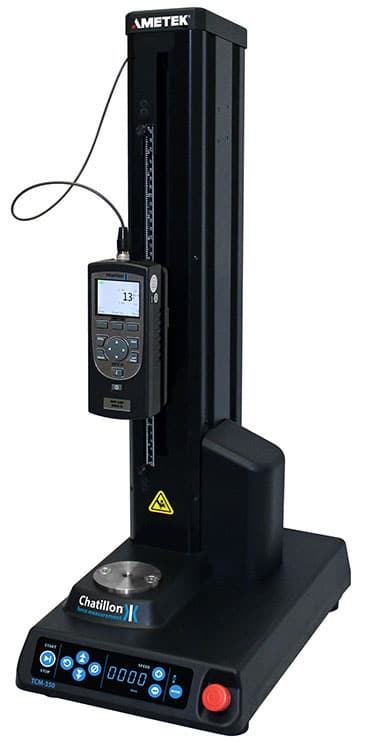 Bestech Australia introduces the latest flexible motorized test machines from AMETEK, the Chatillon TCM Series. The Chatillon TCM Series is designed to replace the current Chatillon LTCM force testers. The TCM motorized material testing system offers fast and effective force testing up to 1500 N at an affordable price. The TCM force testers are available in two versions, the TCM100 and the TCM350. The TCM100 is suitable for low capacity force testing up to 500 N whereas the TCM350 is suitable for testing samples at a larger force capacity of up to 1500 N.
The TCM material testing system features a standard crosshead travel of 406 mm with a throat depth of 100mm which enable the operators to perform a wide array of industrial force testing, including tension, compression, bending, peeling, adhesion, insertion and extraction of samples. The system is also available with an extended crosshead travel of 812 mm which provides operator with a large working area.
The TCM system is also equipped with a large LED display to allow continuous monitoring of test results, such as travel speed and other information. In addition, haptic feedback feature is also included which reduce time required on setting test configuration as well as operator errors. This next generation force testers can be used in conjunction with the CF series digital force gauges from Chatillon to offer a load measurement accuracy of 0.1% full scale as well as added benefits such as drive to limit.
The Chatillon ForceTest software is also included to enable seamless communication of serial data from the machine to the computer. This introduces a faster workflow, live data viewing during measurement and allows the operator to easily export the test results to CSV or PDF. A wide selection of grips and fixtures is available to be used together with the TCM Series force testing solution, offering versatility for applications in almost any industry.