Introducing Wireless Infrared Temperature Sensors for Medical Applications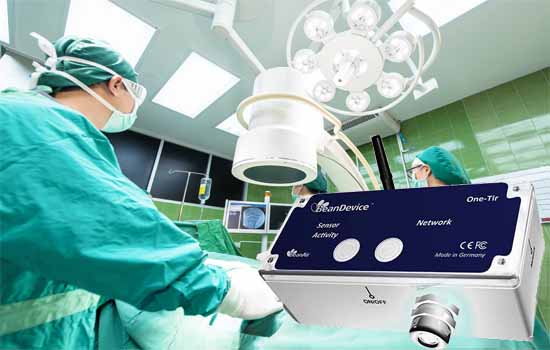 The increasing case of the COVID-19 pandemic has triggered a surge in demand for the infrared thermometer, especially in the medical industry.
Our partner for wireless sensor solutions, Beanair GMbH in Germany, has developed the new wireless infrared temperature sensor with medical precision, Beandevice ONE-TIR-MED, for patient temperature monitoring. This device is developed as an alternative to the handheld infrared thermometer to avoid medical staff being exposed to the COVID-19 virus during treatment. As we see increasing number of medical staff being infected from the virus, the Beandevice ONE-TIR-MED may be the solution to stop this spread and ensure that our health system is not overwhelmed due to the shortage of medical doctors and nurses.
The Beandevice ONE-TIR-MED is modified from the existing Beandevice ONE-TIR to adjust the sensor precision for medical applications. On this new device, the sensor die was modified to comply with the ASTM standard Section 5.3 (Designation E1965 – 98(2009) – Standard Specification for Infrared Thermometers for Intermittent Determination of Patient Temperature).
These devices have been trialed in several hospitals in France. They are commonly used in the patient room where access requires personal protection equipment (PPE). This gives advantages as in some hospitals the patient temperature cannot be frequently taken using the handheld device due to the scarcity of the available PPE. This periodically measured data can be remotely monitored in real-time using PC.
As this development is still on the early stage, we are still trying to gather information as to how this sensor will be used in the hospital. As of now, the sensor will be mounted on the patient's body and the temperature will be taken on the patient's neck. More information will be made available soon.
We are the authorized dealer of Beanair Wireless Sensor in Oceania. For more product information and lead time, please contact our office on (03) 9540 5100 or send us an email enquiry. One of our application engineers will be in touch with you.