Bestech announces the release of piezoelectric accelerometer for high temperature applications, 6243M1/M2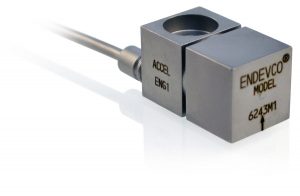 Bestech Australia presents the high-temperature resistant piezoelectric accelerometer from Endevco , the 6243M1/M2. It is specifically designed for measuring vibration and shocks in an extremely high temperature environment such as in aircraft or ground-based gas turbines.
These accelerometers are able to withstand high temperature up to 650 C and 760 C, under continuous and intermittent operation, respectively. In this case, intermittent operation is defined as continuous exposure of 5 minutes over a 60 minutes period. Their designs are also compact and light-weighted. These make them ideal for measurement in an area where space is restricted or limited and in a difficult to access area. They can be installed in a cramped location with minimal structural support.
Two models of are available, 6243M1 and 6243M2. The 6243M1 and 6243M2 differs in terms of the location of its sensitive axis with reference to the mounting screw; either parallel and perpendicular. The sensors are hermetically shield and designed to prevent pyroelectric and thermal velocity spike. This piezoelectric accelerometer come with a standard 120-inch integral hardline cable which can be modified to the customer-specified length. It should be noted that the connector can only withstand maximum temperature of 482 C. For measurement at extreme temperature, users should select the longer cable to avoid causing any damage to the sensor.
Some key features of 6243M1/M2 include:
– Sensitivity : 5.5pC/g
– 50hZ to 3000hZ frequency response @5%
– 5% transverse sensitivity
– Weight : 30g, excluding cables
Please click here to browse the full range of our piezoelectric accelerometers.