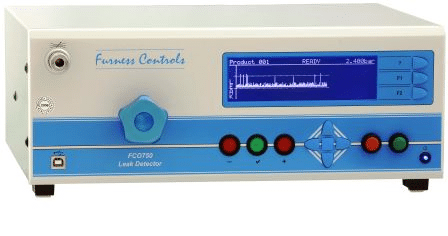 Bestech Australia offers high quality leak testers from Furness Controls to streamline quality checking process for manufacturing industries. Normal modern production lines have implemented automated monitoring and assembly systems to a very high level of integrity and tolerance. Yet at many stages of the manufacturing cycle, products still need to be inspected by old laborious method for defects such as porosity, cracks, faulty assembly, poor seals, poor fit, etc.
Due to this issue, manufacturers often utilize batch quality testing method to check for production faults. This may incur a significant level of faulty products finding their way onto the market that may affect branding and loss-of-profits. The constant drive for efficiency and quality has driven the need for automated inspection method for 100% testing of manufactured products.
By measuring the loss of air pressure instead of the drop in the overall pressure, the leak testers from Furness are able to achieve a high-resolution and sub-pascal leak detection at a wide range of testing pressure from a few millibars up to 30 bar. These leak testing devices are suitable for manufacturing industries in testing of components and manufactured parts. Components and assemblies ranging from automotive radiators, gas appliances, valves, medical devices and vacuum cleaners must be tested as "fit for purpose" during manufacturing process. With the leak detection instruments from Furness Controls can carry out a wide range of test types, including leak, blockage, ramp, coarse and pressure, all-in-one instrument.
The traditional method of leak detection was to look for evidence of a leak by the loss of contents. This can be achieved via pressurizing the item and immersing it in water (or other liquids) and watching for bubbles, pressurizing the item and painting the surface with a search fluid (such as soapy water) and watching for frothing, or even filling the item to a known pressure and watching for this pressure to decrease, as evidence of a leak.
Modern leak testers refine the traditional method in a cost-effective and more efficient way. For example: An item may be filled with a specific gas. The leaking gas is to be captured in a container where its concentration is subsequently analysed with a mass spectrometer. A minuscule concentrations of gas can be detected in this manner which signifies a very small leak rates. Under certain conditions, it is possible to find leaks via detection of sound generating from a hole in the products.
Bestech Australia exclusively partners with Furness Controls who has more than 40 years' of experience in developing leak testing technology. The advanced leak testers are suitable for leak detection in production components and sub-assemblies. The leak testers can be used to measure either pressure loss (in rate or in volume) or the flow of air (gas) to determine the extent of leak. The former is referred to as pressure decay leak detection method and the later as flow leak detection. If time is a crucial factor in the production process, pressure decay will be the suitable option as the flow leak detection requires the system to reach equilibrium for accurate measurement.
| Products | Leak ranges | Pressure ranges | No. of test settings |
| --- | --- | --- | --- |
| Multifunction FCO750 | ±200.0Pa; ±2.000kPa; ±20.00kPa; | ±99.99mbar;±200.0mbar;±999.9mbar; -1..+4.000bar; -1..+8.000bar; -1..+9.999bar; -1..+14.00bar; -1..+30.00bar | 300 |
All models have build-in data logger* with USB memory stick connection & communications via RS232, RS485*, USB* or Ethernet* & Barcode scanner support* * – options with advised models
Most analytical techniques have been designed to achieve detection of the tiniest leak possible with minimum design complexity. They are capable of detecting a leak rate below a certain allowable level. The new generation of leak testers from Furness Controls are designed to achieve these level of detection reliably with fast, easy and simple operations.
Using absolute pressure transducers, the detection of a very fine leak in the range of 1:50000 is possible. When taking zero-drift phenomena into account as occurred in practical situation, this value may reduce to 1:10000. In industrial environments where long term use is favored, the resolution would further reduced to 1:1,000. Taking these into account, Furness Controls design modern leak testers that are suitable for fine leak detection and long term stability operation in production line environments. Instead of measuring a drop in the overall pressure, a differential pressure system was developed to measure the loss of air pressures.
In a typical differential pressure system, the product is filled with air through the system. The system categorizes the product into two regions. One half is held as a reference, while the other half is connected to the test item. The differential value is taken across the system; thus any leak in the test item will cause a drop in pressure, which is shown as a reading in the instrument. A pass or fail signal is given at the end of each test cycle.
Using differential pressure measurement system, the effect of instrumental problems such as zero drift, temperature drift is minimal as they only directly affect the test pressure and not differential pressure. For example: a 1% drift on an typical leak testing instrument recording a charge pressure of 60 psi is 0.6 psi. However, in the differential pressure system, a 1% drift on an instrument reading 60 psi is only 0.00014 psi. An extremely low sensitivity in the order of micro-scale can also be achieved with reliable long term operation.
A number of different systems have been developed to enable efficient product inspection in the production line for a wide range of products.
Pressure Decay
The product to be tested is connected to the leak testers and it is charged to a test pressure. At this stage, leak can be identified when pressure loss occurs. The results can be shown as the rate of pressure loss, as value of pressure loss or, if the volume of the test item is known, as a flow rate (through calculation). A reference cell may be charged simultaneously in order to save overall cycle time by achieving an system equilibrium sooner.
Flow Detection
Flow detection measures the flow of replacement air (gas) directly from the reference cell into the leaking cell by means of a laminar orifice.
Continuous Flow
Continuous leak testing method is developed as means to allow operator to identify the effect of any adjustments made on the tested product. This is necessary for large scale manufacturing of domestic appliances and other larger assemblies part where faulty components are to be rectified, not discarded. The continuous flow leak testers constantly charge the test item while simultaneously measure the flow required to do so. When the operator has repaired the leak and the flow falls below the acceptable leak rate, a pass signal is given.
Bell Technique
A tightly-sealed container is placed inside a sealed chamber and charged to a test pressure. Leak can be detected through measuring the pressure rise in the outer chamber This technique can be used when the object test pressure exceeds the testing capability of the leak testers.
Pressure Dump
All of the above-mentioned techniques are not suitable if the test item cannot be pressurized. In such cases, pressure dump test is the preferred option. The test item is initially placed inside a container which is later charged with pressure and filled with a specific volume of air. it is often possible to place the item inside a container and to charge the container with a specific volume of air. If the test item does not leak, the resultant pressure within the container will be dependent on the free volume of the container (container less volume of test item), the charge pressure and the volume of the air. However, if the test item does leak, the effective volume of the container will be the full volume of the container less the solids within the test item, i.e. a larger volume. Consequently the resultant pressure within the container will be lower.
Applications for leakage, flow, and blockage detection involving the testing of many types of parts, which may include:
Automotive Sector
Cooling Radiators
Oil Pumps
Brake Master Cylinders
Catalytic Converters
Fuel Tank Non-Return Valves
Tail Lamp Clusters
Gearboxes
Cylinder Head Casting
Thermostat Housings
Fuel Injectors
Metal Flexible Exhaust Hoses
Tank Level Sensors
Fuel Pipes
Spring Loaded Seals
Water Pumps
Washer Bottles
Brake Pipes
Fuel Tanks
Brake Hoses
Headlamps
Differentials
Engine Block Castings
Facia Ventilation Systems
Exhaust Manifolds
Brake Fluid Reservoirs
Fuel Rails
Air Conditioning Radiators
Brake Wheel Cylinders
Silencers
Fuel Pumps
Radiator Hoses
Pneumatic Seat Suspensions
Rear Axles
Rocker Covers
Carburettors
ABS Devices
Power Steering Racks
Gas Appliance Industry
Gas Cookers or Stoves
Gas Fires or Heaters
Gas Regulators or Governors
Gas Injectors or Jets
Gas Boilers or Furnaces
Gas Barbeques
Gas Meters or Counters
Heat Exchangers
Gas Hobs
Gas Refrigerators
Gas Valves
Pneumatic Industry
Pneumatic Cylinders
Pressure Relief Valves
Control Valves
Pneumatic Fittings
Medical Devices
Catheters
Sealed Plastic Bags
Endosurgical Probes
Drainage Bottle/Bags
Needles
Molded Plastic Bottles
Filters
Others
Water Meters or Counters
Fountain and other Pens
Glue Pens
Avionic Electrical Packages
Plumbing Fitting and Valves
Marker Pens
Satellite LNB's
Beer Taps
Trigger Pumps
Electrical Connectors
Enquire Now