NEXYGENPlus 3
 multi-lingual materials testing software is designed for use with Windows©XP or Windows©7. Simple select test from one of its pre-defined test procedures to create any desired tests based on any international standards thanks to the software's large built-in library of test methods. Video and still image capture help for post-test visual analysis whilst built-in SPC enables continuous monitoring of process parameters such as Cp and Cpk. Collected testing data can be transferred and used externally seamlessly as MS office packages have been integrated into the software. The software is configured to allow rapid and accurate data collection with many built-in functions to ensure free testing. Its powerful analysis and reports tools not only deliver multi-colour graphs with legend in most popular commercial packages like Excel, TXT, ASCII, WORD, and etc. to be printed or emailed, it also provides direct connections to LIMS systems used in laboratories. All testing data are generated and transferred automatically without operator intervention.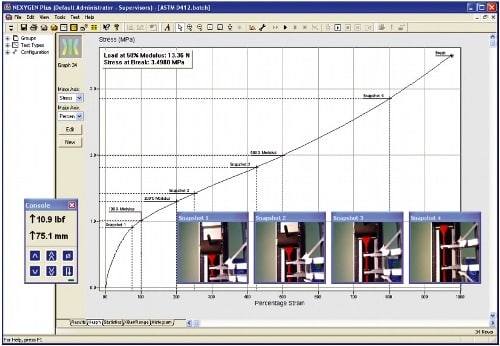 You need to have Adobe Flash Player to view demos provided on this page.
Functions
Features
Download Flash Demo File (audio required)
Test Creation

Large built-in library of test methods and standards

Application areas include plastics, metals, rubber, building materials, component testing, products testing, textiles, paper, wood, medical devices and etc.

Test creation wizards included as standard, tension/compression test, tear and peel test, cycling test, flexural test, friction test and user configurable test for multi-stage testing.

how to create a simple test
Data Collection

Supports direct reading of Mitutoyo digital micrometers & callipers for sample measurement

part numbers can be programmed into the system to avoid data entry errors by operators

Customisable user instructions can include digital pictures of fixtures & sample setup

Video capture system allows playback of synchronised video & graph. Ideal for post test analysis of product or component testing

Capture still images of sample throughout the test for post event analysis

Clear pass/fail indications for operator

Users can select relevant points in graphs display

Watch a demo of error free testing & video capture
Data Analysis

Graphs can be overlaid in multiple colours with a legend shown directly on the graph

Data can be automatically export to specified MS Excel worksheets without operator intervention

Graph data points can be automatically exported. Automatic execution of Excel macros allows complex reporting & tedious analysis work generated automatically

Built-in export utilities assist with direct connections to LIMS systems (MS Word reporting)

Built-in SPC functionality allows continuous process monitoring

Demo of automatic MS Excel data exporting View the power & ease of MS Word integration
Queries

Sorting test data by max. force or part ID

Filtering test data by part ID or view all results

Combining archived batches to allow analysis of all data

Reporting on multiple batches, e.g. merging batches for a particular product

Automating Excel exporting values above or below a certain value of example or exporting results to separate worksheets for each unique part ID

–
Security & Audit Trails

Allow supervisor to configure the system to enable compliance with the testing standards' requirements, restricting user access to increase security and avoid costly errors.

Electronic signatures available through unique user name & password

Audit trails give the supervisor an overview of the system operation and records changes to test setups as well as any attempts to perform an unauthorized task

Configurable user access rights

Demo of Security Features
Automation

Supports National Instruments data acquisition cards allowing communication with external equipment include:

– Control sample loading equipment – Monitoring external signals such as temperature during the test, measurements can be taken and recorded in software – Using multiple strain gauges to measure elongation of a sample – Using voltage limits to switch testing (change direction) in software – Control and monitoring of thermal chambers and furnaces – Integration into production line for sharing part number data and informing a production line of a bad part is found
–
Minimum Computer Specifications for Runing NEXYGENPlus
USB 2.0
CD ROM drive, 2.4Hz Processor or better with 3GB RAM
Microsoft® Word (2000 or later)
Microsoft® Access® for Security Module maintenance (unless another advanced database is to be used)
Windows® 7
Unused COM Port with a 16550 UART (dual column machines only)Simple to set up, operate and maintain
Need assistance with your application? 
CONTACT US
 now with your application details.
Enquire Now