Bestech supplies a wide range of electronic instruments for industrial measurement, control and networking including programmable transmitters, digital panel meters, electronic counters, industrial timers, bar graph meters, and large digit displays.
Base Model
M2
M4
M6
M8
MAGNA Series Large Digit Displays
Digit Height
57 mm
102 mm
150 mm
200 mm
Case, W x H 4 digits
279 x 155 mm
436 x 196 mm
514 x 248 mm
824 x 248 mm
Case, W x H 6 digits
38476 x 155 mm
616 x 196 mm
664 x 298 mm
984 x 298 mm
Case Depth
75 mm
75 mm
75 mm
75 mm
Features
– Choice of 4 or 6 digits – Choice of inputs: RS232/RS485 serial data, process signals (4-20mA, 0-10V), weigh/load cell, requency, rate, pulse totalizer, 24hr clock, elapsed time – Optional replays, analogue output, serial output – Viewing across a plant floor or outdoor yard – Choice of 95-264Vac or 11-30Vdc excitation – Choice of suspension, wall or panel mount – Optional extra-bright LEDs and weather cowl for outdoor installation – Optional remote programming unit – EM certified (CE Mark)
On the left is the A/D transfer display circuit, input (Ex) is connected for a fixed period of time (Ts) and is integrated when S1 turns ON. Now, when S2 is ON, the reference voltage Es of a reversed polarity from Ex is connected, and is integrated towards the zero voltage direction. When the integrated output becomes zero, a comparator will activate and the integration will be stopped. The time brings it back to zero is Tx. A formula is established as the relationship of those periods as blow.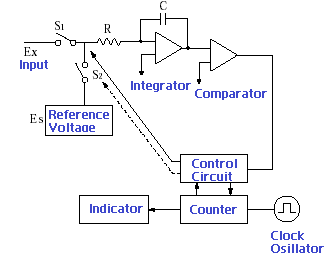 As Es and Ts are predetermined values, a digital value proportional to the input can be acquired by measuring Tx with a pulse counter.
In the integral method to the left, the + half cycle and the – half cycle offset the superimposed noise effectively. Therefore, when the input integral time is more than doubled of the power supply frequency, an infinite noise rejection ratio can be achieved theoretically. When a filter is inserted into the input circuit, a larger NMR (normal mode rejection) can be acquired for that portion.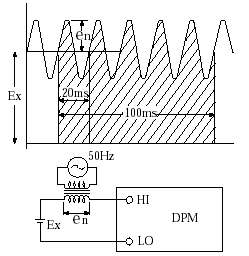 CMR (Common Mode Rejection Ratio) is the percentage of error that is generated under actual operating conditions, where the common mode voltage (phase noise) that equals to the common point (Ground) affects the input terminal as well as the measurement. There is a ground difference between the ground terminals of the signal source and the DPM. This noise appears between the Hi-Lo input terminals of the measurement and is caused by the flow of the ground current. The phase noise becomes larger along with increase of distance between the two grounding points, and a noise voltage may be from several volts to tens of volts. Below is a definition of Common Mode Rejection Ratio Assuming.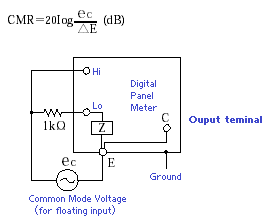 Output voltage changed (ΔE) When applies the common mode voltage eC (peak AC voltage) to the circuit.
Applications:
Controlling a tank filling operation with 2 liquids for a food processor
Measuring length & rate using quadrature for an oil drilling operation
Obtaining tank volume from pressure with irregularly-shaped tanks
Controlling a heat-sealing process that takes less than 1 second
Free PC setup software for digital panel meters, counters & remote displays
Laureate™ digital panel meters are a cost-effective solution to a wide range of monitoring and control applications, offering performance and programmable features not found in other meters. Exceptional fl exibility is provided by software and hardware options for control, analog output, and serial communications. The meters are economical, fi t in a standard 1/8 DIN panel cutout, and are sealed to NEMA-4X from the front. Features: – Fast response, high accuracy – Scalable to four or six full digits – Choice signal conditioners – Isolated excitation power – Isolated relay options – Isolated analog output option – Isolated communication options – Easy setup
Enquire Now