Other accessories available
:
Load cells (HLC/XLC/YLC Series)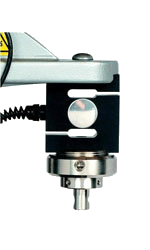 POGO system for single & twin column bench test machines (test frame fitted below the machine base to allow testing of very large samples up to 2m x 2m)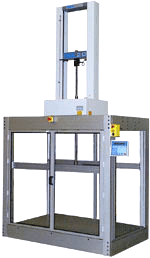 Splinter shields to protect the user when testing brittle samples that are liable for fragment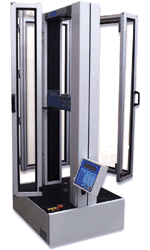 Temperature testing furnaces & thermal cabinets

For more details, please 
CONTACT US
.
You need to have Adobe Flash Player to view demos provided on this page.
Product
Description
Download Spec Sheet
Grips & Fixtures
Adaptors

Round, square & rectangular compression plates for general compression testing

Aluminium for soft samples (cardboard, plastics, rubber, foams, lightweight springs, bottles, cartons)

Hardened steel for rubber, plastics, heavy duty springs, building products, composites & ceramics

Compression plates
Bending jigs are used for determining the flexural properties of rigid and semi-rigid materials (glass, ceramics, composites, wood & rigid plastics) which includes:

Flexural stress at a given time of test

Flexural stress at the conventional deflection

Flexural stress at max. load

Flexural stress at Rupture

Apparent Modulus of Elasticity in Flexure

Flexural (bending) grips for Materials Testing Machines

Peeling samples at 90°,180°

ASTM D3167, ISO4578, DIN53289, EN1464 standards

Peel & Friction Grips

Single or double actuator

Ideal for all types of flat samples, rubber, plastic, film, plastic dumbbells, paper and cardboard, sheet metal, foils, wood, fabrics and composites

Suitable for use with the foot & hand controls

Pneumatic grips

Vice grips with manual tightening action either buy thumb screw or T-bar

Single or dual action, allow for offset sample alignment for shearing testing

Ideal for flat samples, rubber, plastic film, plastic dumbbells, paper and cardboard, sheet metal, foils, wood fabrics and composites

Vice grips

General tension testing of metals & plastics

Grip tightens on the sample as force increases, initial force can be applied by various methods like side lever, capstan action wheel or screw action

Faces are interchangeable for different sample types & dimensions

Wedge grips

Suitable for a wide range of samples (fibre, yarn, thread, string, rope & strapping tape

Sample can be wrapped around the bollard & clamped at one end

Ideal for user with an extensometer to calculate true strain in the sample

Pneumatic version is available

Bollard grips

Self tightening as sample is pulled

Ideal for all types of flat samples, rubber, plastic film, plastic dumbbells, paper & cardboard, sheet medal & foils

Eccentric roller grips

Single or double actuator

Suitable for user with hydraulic pumps

Hydraulic grips

Direct connect & options of a connecting chain for self alignment

Ideal for testing of small component parts where access is an issue such as electrical & electronic components

Pincer grips

Samples are machined dumbbells with metric threads

Inserts are available for bolts & screws

Thread head grips

Grips with a split-C design which allows the user to wrap the sample around a self tightening roller

Samples can be manually pre-tensioned before test starts

Webbing & ribbon grips
Extensometers

General purpose precision extensometers designed for testing a wide range of materials (metals, plastics, composites & ceramics) operates in tension, compression & cyclic testing modes

High frequency operation is permited & eliminating vibration sensitivity

Attachment kit to allow one-hand quick mounting to the sample

Contacting & Clip-on
Two types

1st aims at the plastic & rubber industries to provide accurate readings of strain & extension over a large extension range that allows additional parameters such as yield point & break points to be calculated by NEXYGEN software

2nd type is suitable for user with rigid, semi-rigid & ductile materials

Long travel

Measure deformation in 3 & 4 point bend tests, compression testing applications

Deflection gauge
–

Suitable for both the measurement of material constants as well as "long travel" applications

Mounted on an adjustable frame which is attached to the tensile testing machine and it's possible to adjust the video extensometer to the optimal position within the chosen work area

8 different lenses for optimal focus are availble

Video (Non-contacting)
Food Texture Jigs & Probes

Dough extensibility, stickiness

Firmness/hardness, fracturability & springiness

Bread firmness AACC(74-09)

Puncture of thin breads, pancakes & tortillas

Bakery

Firmness/hardness, gumminess, fracturability, stickiness, & springiness

Confectionery & Snacks

Firmness of whole fruits/vegetables

Firmness of peas, sweetcorn & beans

Extrusion properties of soft fruits, peas, beans, corn & processed fruit/vegetables

Fruit & Vegetables

Spaghetti/noodle extensibility

Pasta & Rice

Firmness/hardness, crispiness, chewines

Cereals
Meat, Poultry & Fish

Consistency of yogurt & cream based products

Firmness/hardness of cheese, butter, margarine

Spreadability of butter, margarine, spreads

Tensile strength/extensibility of cheeses

Viscosity of yogurts & sauces

Creep/relaxation of butter & cheese

Cutting resistance of butter, margarine, cheese ISO 16305

Work softening of butter & margarine

Diary
Gels are widely used in food, cosmetics & pharmaceutical industries. NEXYGENPlusstandard test methods for Bloom strength (GME & GMIA):

Insert an AOAC probe a fixed distance into the gel;

Test types:
Gels
TA1 can be configured into a dual texture analysis & packaging testing machine by changing fixtures:

Tearing strength & coefficient of friction

Test types:

Tensile ASTM D412, peeling, tearing;

Packaging
A complete line of grips and fixtures for material and product testing on Lloyd Universal testing machines and texture analyser.
Need assistance with your application? 
CONTACT US
 now with your application details.
Enquire Now