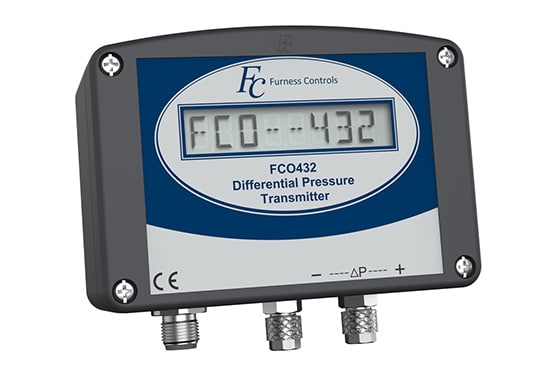 The FCO432 differential pressure transmitter offers a wide measuring range from low pressure of ±50Pa to +10bar. It also has enhanced accuracy of ±0.25% of reading, ensuring accurate reading at any measurement value.
This pressure transmitter is available with two display options; low power LCD display, or high brightness, illuminated OLED display. This offers flexibility for integration into different industrial applications. Alternatively, users can opt to use the transmitter without a display.
The FCO432 can be configured with multiple functions such as setting up an alarm system using independent relays, or zeroing the device externally or automatically. Its output is fully scalable as linear to differential pressure or even as a square-root function. It can also be configured with standard 2-wire 4-20mA and 4-wire isolated 4-20mA current output, as well as voltage options, which makes FCO432 a great fit for a variety of industrial setups.
With all these outstanding features and measurement accuracy at low pressure, the FCO432 is ideally used for cleanroom applications such as in pharmaceutical manufacturing. Other areas of applications include industrial flow measurement such as combustion pressure measurement, air pressure measurement and air flow measurement in industrial furnaces, dryers, ovens, cleanrooms, wind-tunnels, orifice plates, pitot-static tubes and many others.
Enquire Now