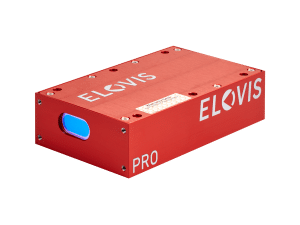 The µSPEED Laser-Encoder from Elovis offers fast measurement of speed and length with a measurement accuracy of ± 0.05%.  With these non-contact measurement systems, users can replace tactile speedometers/rotary encoders and machine drives to achieve contact-free and maintenance-free operations.
The µSPEED laser velocimeter operates based on the doppler principle and determines the current speed and path length based on the interference pattern from the intersected two laser beams.  Therefore, it can measure almost any type of surface including light, dark, black, reflecting, matt, structured and rough surfaces without changing any parameters or settings. Users also do not need to recalibrate the equipment before any measurement tasks.
All these high-end characteristics are enclosed in a compact design to enable measurement and integration in areas where space is restricted and limited. The measurement values can be displayed as either digital quadrature output or as ASCII string through a serial interface. This speed sensor also comes with industrial BUS and Ethernet interface for easy communication with industrial interfaces. It has been used extensively in the industrial control cutting process and differential length and speed measurement.
µSPEED-PRO
µSPEED-SMART
µSPEED-SMART-ECO
Accuracy
± 0.05%.
± 0.05%.
± 0.3%.
Direction
Bidirectional
Unidirectional
Unidirectional
Repeatability
± 0.02% of measurement value (except SMART ECO)
Measurement range
0-20m/s
0.02-100m/s
0.02-100m/s
Stand-off distance
115mm
240mm
240mm
Protection
IP67
Dimension
154x 94 x 39mm
Length measurement of foil, paper, cable, flat cables, textiles
Cutting control of pipe/profile extrusions
Cut-to-length control of cables and wires
Roll cutting in roof membranes
Length measurement of ropes in braiding machines
Speed measurement of cylinder and roller
Portable speed measurement of machines components
Available with accessories such as:
Terminal box connection
Shielded cables up to 50m
Display counter and control unit
Tripod
Configuration software
Bus-module
Protective casing (Air-cooling, water-cooling, heat exchanger, air purge)
Height adjustment unit
Laser protection
Optional battery module with data logger
Enquire Now