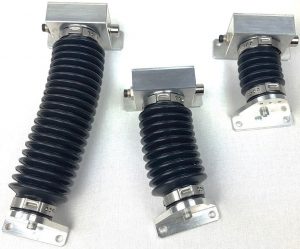 The EDS displacement sensor is designed based on a hyper-elastic, stretchable strain gauge that comprises dielectric sheet and deformable electrodes. The sensing element generates change in capacitance upon being stretched. Displacement or movement is calculated based on this change. Its flexible design makes it possible to obtain both linear and off-axis measurement in all directions. With the maximum sampling rate of 10kHz, this sensor is ideal for fast and dynamic measurement tasks for industrial automation and process monitoring applications.
The EDS sensor is also robust and highly resistant against shock, vibration and environmental ingress. This makes it ideal for integration in harsh industrial environment. Furthermore, the EDS sensor is also economical and has no sliding parts in its design which means less installation complexity and requires no maintenance. This sensor can also be used as a standalone sensor or part of a system when daisy-chained with other sensors.
This ground-breaking technology has already added values to metal forming applications. It is currently used as monitoring systems to detect faulty operations of stamping tools due to presence of metal slugs. Other potentials applications include process automation, structural health monitoring, predictive maintenance and even R&D.
Key features:
Measurement range: 20-200mm
Accuracy: 0.1%FS
Sampling rate 10kHz
IP63 Protection
Analog & RS485 Interface
Enquire Now