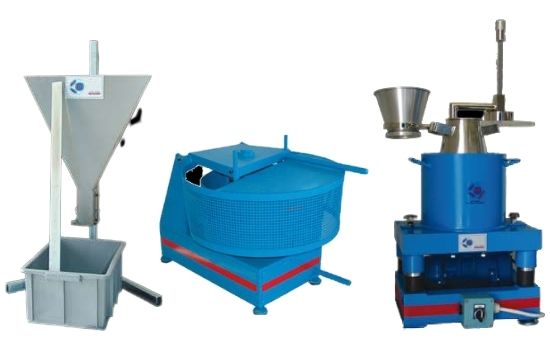 Our Concrete Testing Machines are used to ensure that concrete attains its maximum strength and are easy to pour. Our 
Vebe concrete testing machine is used to determine the degree of consistency also referred to as the "Vebe degree" of concrete. 
 The consistometer consists of a vibrating table and a vibrator, container transparent plastic disc, steel tamper and a funnel are mounted at the bottom of it.  
The 
Air entrainment meter 
determines the amount of air contained in the concrete introduced by airborne agents.
To check concrete compaction and whether
 the specimen is homogeneous and compact, we have vibrating tables to ensure that 
the aggregates move in a single direction so as to pack them together and increase the density of the concrete in the mixture. 
For curing both cubic and cylindrical concrete specimens under specific humidity and temperature conditions, we have the Water bath testing equipment. 
The testing equipment is supplied with thermostatically controlled heating elements to control the concrete mix and a bottom support tray under which the heating element, water inlet and draining tube are placed.
We also offer 
 Partitionable chambers for all types of curing methods and increases the concrete quality. It helps in reducing heat and moisture loss.
Our other concrete testing range includes control and data acquisition systems and compression concrete testing systems with integrated hydraulic power pack and digital controller.
Our concrete testers asses the cement mixture on the basis of a few factors including:
water-cement ratio

Introduction of air in the concrete due by airborne agents

Specimen preparation

concrete compaction

Specimen curing
Enquire Now