Bestech Australia provides comprehensive range of products for pressure, level, flow, integrated pressure-temperature measurements. Covering a wide variety of scopes and specifications, customers can easily find the right solutions for applications by choosing from our wide range of standard pressure measurement instruments as well as custom-designed or OEM applications.
Highlights:
Low cost of mechanical pressure switches;
No internal arcing or contacts of solid-state pressure switches offer long life cycle;
Low control input;
Immune to vibration and G-force;
| | |
| --- | --- |
| Pressure rangee | 0bar to 2000Bar |
| Overload pressure | 150% F.S.O |
| Max Temperature at wetted parts | 400°C |
| Output options | 3.33mV/V (strain gage) 0-5V DC, 0-10V DC, 4-20mA (amplified) Digital output |
| Process Connection | external thread 1/2″-20 UNF-2A, M14x1.5, M18x1.5 |
| Explosion proof option | Available |
| Media | gas, water, etc. |
| Repeatability | 0.2% F.S.O |
| Programmable models | Available |
| Accuracy* | ±0.3%, ±0.5%, ±1 %F.S.O |
There are two main types of pressure switches, i.e. electromechanical and solid-state pressure switches. Mechanical pressure switch consists of a sensing element associated with an electrical snap-action switch. The sensing elements usually include a common spring tube or a magnetic coil with moving parts of relevant electrical contacts that responding to the pressure of the system and compare the measuring pressure to the pre-set value so that switch toggles between open or close of an electrical circuit. These parts are isolated from media and located inside the housing.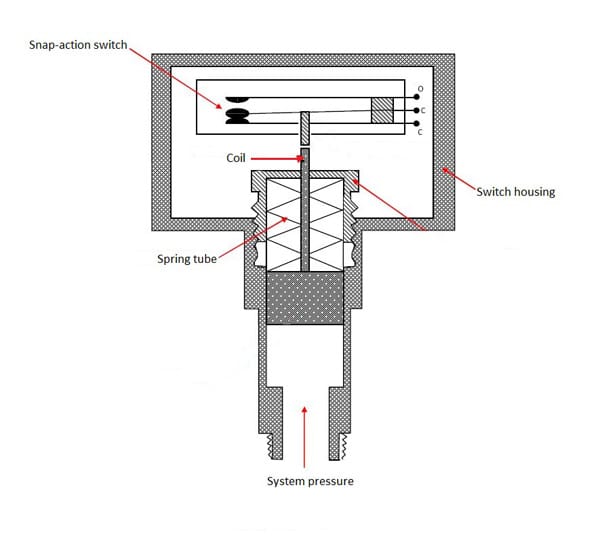 One benefit of electromechanical pressure switches is that they are not affected by any electromagnetic interference or radio frequency interference. There are open (O) and closed (C) types. For initially closed type pressure switch, when there is no pressure input (zero pressure), the electrical contacts of are connected to each other that is corresponding to a "CLOSED" state of the switch, and the electrical resistance is zero between the associated contacts. If the input pressure increases gradually to the upper limit of pressure (P2), the moving parts enable switching and result in the electrical contacts disconnected, referred to an "OPEN" state of the device. In the "OPEN" state, the electrical resistance is infinite between the associated electrical contacts. Once the input pressure decreases gradually from P2 to the lower limit of the pressure (P1), the moving parts of the device are switched back to its initial position, having the electrical contacts connected again. Therefore, the switch toggles back to its initial "CLOSED" state, restoring the zero electrical resistance between the associated electrical contacts as below illustration.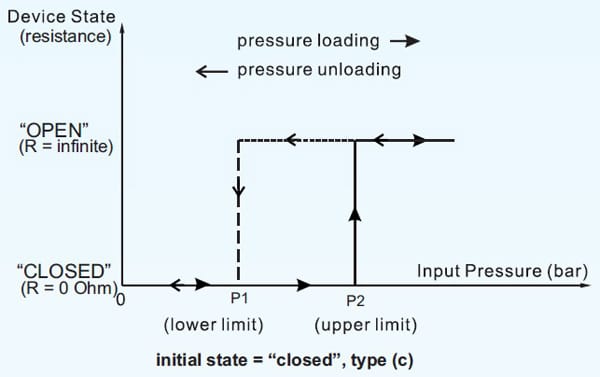 The solid-state pressure switches are fully programmable in both analog and digital outputs and featured with digital displays. These pressure switches can have 1 or more switch points and are not subject to wear therefore possessing long operational life of around 100 million cycles. Their improved accuracy reaches ±0.25% with high resistance to external shock and vibration. The solid-state pressure switches adapt to broad ranges of system pressures as well as frequency response that ensures long-term stability.
For more information, 
CONTACT US
 now with your application details.
Enquire Now