New Mobility Upgrade on MF102 Hydraulic Training Simulator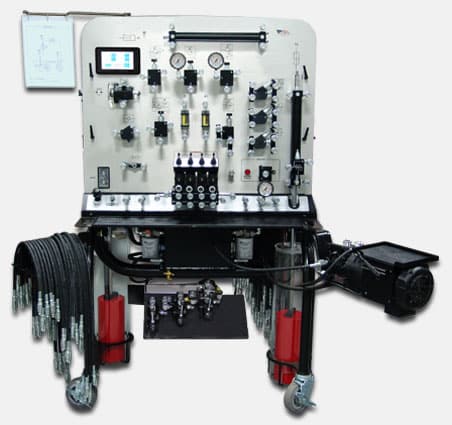 The MF102 Hydraulic Training Simulator is the state-of-the-art hydraulic training simulators from the Fluid Power Training Institute (FPTI) for teaching basic through advanced hydraulics as well as troubleshooting and diagnostics procedure in a safe way. It is a foundation building training system that is crafted with the intention to help students in understanding principles such as Pascal's Law, Inertia, Power, Resistance, Differential Pressure, Series-Parallel theory, which may be confusing for beginners.
As one of the most advanced hydraulic training simulators in the world, the MF-102 hydraulic training simulators is one of the most sought-after training kits in TAFE and training organization. Many of our clients also transport their training simulators into multiple training sites. Considering the value of the MF-102 they purchase, it is essentials to properly plan for the transportation as there is a good chance that the equipment may be damaged from poor planning.
The MF-102 consists many extra valves and diagnostics equipment which have to be packed separately. For the customers that purchase the electrical trouble shooting models, MF-102-H-TSE, they should also remove the touchscreens panel and pack them separately to prevent damage.
The FPTI have included several upgrades to make it convenient for our MF-102 users to transport their training simulators, listed below.
Heavy-duty casters with four-wheel steers
Swing-out power unit with a latch that can automatically lock itself into position below the tray
Swing-out hose caddy equipped with auto-locking mechanisms to securely store hoses
Extra tray mounted below the simulators to safely store extra valves and diagnostics instruments
New extra heavy-duty touch screen holder
With these new upgrades, the MF-102 is now equipped with the mobility, allowing for easy transportation to multiple classroom and training sites.