Microscopic lens thermal imager to monitor temperature of ultra small objects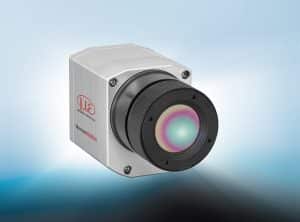 Bestech Australia now supplies microscopic lens thermal imaging camera from Micro Epsilon for monitoring temperature of miniature or ultra small objects. The microscopic lens is an optional upgrade to the existing high resolution thermal imager from Micro Epsilon, the TIM640 and TIM450. With this upgrade, these thermal imaging cameras are now capable to capture thermographic images of individual objects with a spatial resolution of 28µm.This upgrade offers a massive advantage to the TIM640 and TIM450 thermal imager. Both cameras have already offered a high resolution images of 640 x 480 pixels and 382 x 288 pixels, respectively.
With the integration of microscopic lens, it further allows the cameras to detect even the slightest temperature difference with high precision and reliability. This is often encountered in the electronics manufacturing industry such as PCB temperature measurement, assembly monitoring or for the inspection of micro-sized solder and weld joints.
These microscopic lens thermal imaging cameras also offer a fast recording rate of 125Hz in real-time. The camera can also be freely positioned within 100mm from the measuring objects. This large working distance enables the sensor to record temperature of the electrical components during the electrical function tests. The microscopic lens also allows the camera to record fast, transient temperature change as well as radiometric videos and images.
The TIM camera also comes with scalable temperature range from 100C to 900C. This offers versatilities for measurement and integration in wide range of industrial applications. The TIM Connect software is also offered for real-time visualisation and monitoring of recorded data. The data can be displayed in a computer or control systems via a USB or other connecting interfaces.
TIMG7-ID-3051Download pdf brochure of microscope lens thermal imager