High Performance Eddy Current sensor for non contact gap measurement in industrial application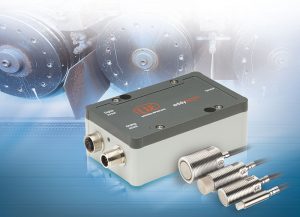 The new eddyNCDT3060 is a powerful new generation eddy current displacement sensor that combines precision, speed and temperature stability. This versatile, easy-to-operate sensor has excellent price-to-performance ratio which is ideal for large volume application. Their immunity against oil and dirt and capability to operate under elevated temperature and pressure also makes them possible to be used for integration in industrial machinery. It is ideally used as non contact gap measurement sensor in industrial machinery such as turbine or hydraulic bearings.
The eddy current sensor system from Micro-Epsilon consists of a sensor, connecting cable and a compact controller. The system is factory-calibrated for measurement of either ferromagnetic or non-ferromagnetic materials. Combining high speed and smart signal processing, the eddyNCDT3060 defines a class of its own in displacement measurement technology.
The sensors are designed for displacement measurement of up to 4mm. Both sensors and controllers are temperature-compensated, which allow the system to achieve a very high measurement accuracy and stability even in the situation where temperatures are unstable.
The sensors are designed to withstand ambient temperature up to a maximum of 200C and pressure up to 20 bar. Some example applications of eddyNCDT3060 include fissure/gap detection in axial piston pumps, oil gap monitoring in Hydrostatic bearing or in Wind Turbine application.
This new generation sensor is also compatible with more than 400 sensor models from Micro Epsilon, which opens a wide range of applications. Furthermore, the controller offers enhanced features such as 5-points linearization, and optional temperature and switching output. This further increases the measurement accuracy to achieve the maximum performance. In additional to configurable analog outputs, the eddyNCDT 3060 is also equipped with the industrial grade M12 ethernet interface for enabling modern field bus connection. Via Ethernet connection, the measurement data can be accessed and visualized in a modern, easy-to-use web interface and does not require without complex installation.
For more information on our eddy current sensor, visit here