Compact eddy current sensor with small measurement range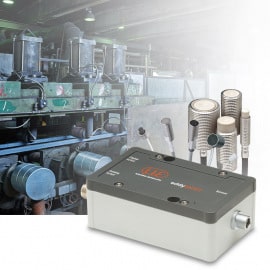 Bestech Australia announce the release of a powerful, high-performance eddy current sensors, the EddyNCDT 3070. This eddy current sensor specialises in measuring a small displacement of 1mm or less. It offers high precision measurements and fine resolution with additional capability to perform fast and dynamic measurement @20kHz. This new eddy current measuring system is compatible with only miniature sensors having a measuring range of less than 1 mm. It consists of a compact controller, a sensor and an integrated cable. Therefore, this system is suitable for measurement in space-restricted area. The system is also factory-calibrated for either ferromagnetic or non-ferromagnetic materials.
The new eddy current measuring system is designed for use with large quantities and integration solutions. Therefore, it is one of the sensors that should be considered by OEM manufacturers. The special feature of this sensor enables distance-independence multi-point calibration for the highest precision such as 5-point or 3-point calibration. It can also store multiple characteristic curves. The system also doesn't need synchronization with multi-channel measurement, as it is equipped with a frequency separation feature.
Due to its compact design, the DT3070 is easy to be integrated in industrial machinery. It also has resilient towards dirt, high temperature and high pressure which is typically encountered in industrial environment. Therefore, this versatile eddy current sensor can be used for measuring in a wide range of industries such as plant and machine building, automation, automotive and test benches. Typical applications of this measuring system include distance, position and displacement measurement, shaft movements, gap measurements, measurement of thermal expansion and machine monitoring.
Key feature of this sensor include:
Range: less than 1mm
Resolution: 0.0025% @20kHz
Sampling speed: max 50kHz