Variable Capacitance
Variable Capacitance (VC) Accelerometers are dominant product of MEMS for both research field and sales market. MEMS (Micro-Electro-mechanical System) consist major elements of micro-sensor, micro-actuator, signal processor and logical control circuit, communication interface, power and etc. Capacitance accelerometer typically includes two parts: mechanical components and detect interface circuit. A variable capacitance acceleration sensor is manufactured using silicon microfabrcation and possessing advantages of high sensitivity, low power consumption, excellent linearity and independent of temperature.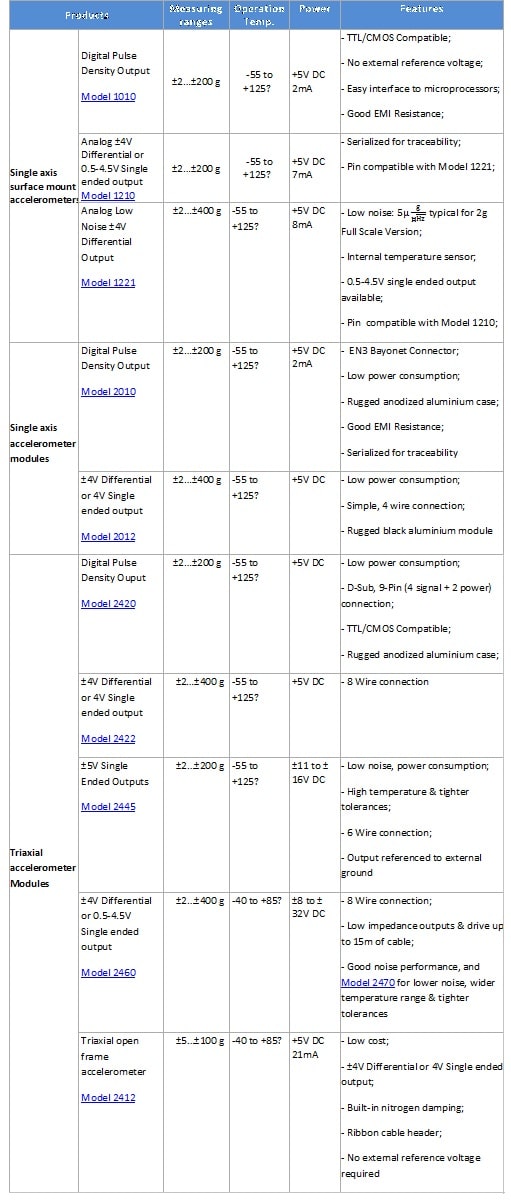 More models, please download
here
.
| | |
| --- | --- |
| Linear range | ±2 to ±400 g |
| Frequency response | 300-4000 Hz |
| Weight | 6 – 30 gram |
The sensor element functions on the principle of differential capacitance. Acceleration causes displacement of a silicon structure resulting in a change in capacitance. A circuit, using standard CMOS manufacturing process, detects and transforms changes in capacitance into an analogue output voltage, which is proportional to acceleration.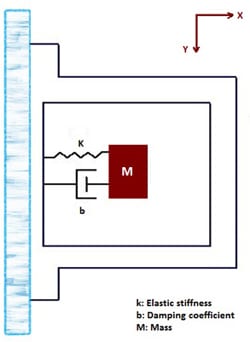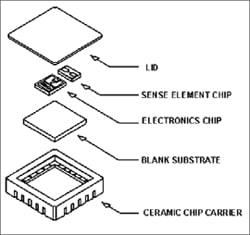 Capacitive accelerometers (vibration sensors) sense a change in electrical capacitance, with respect to acceleration, to vary the output of an energized circuit. The sense element wing is a flat plate of nickel supported above the substrate surface by two torsion bars attached to a central pedestal. The structure is asymmetrically shaped so that one side is heavier than the other, resulting in a centre of mass that is offset from the axis of the torsion bars. When an acceleration force produces a moment around the torsion bar axis, the plate or wing is free to rotate, constrained only by the spring constant of the torsion bars.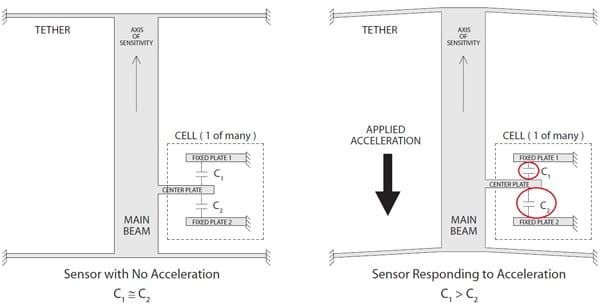 These capacitors operate in a bridge circuit and the electrical output of which varies with input acceleration. The sensitivity of the sense elements (the ratio of deflection to acceleration) is determined by the mass of the sense element, the distance from the center of mass to the torsion bar axis, and the torsion bar stiffness.
For more details, please
visit
.
Highly accurate and rugged industrial-grade capacitive MEMS accelerometers with integrated amplification from Silicon Designs are offered in eight standard ranges of 2 g to 400 g with a wide range of full-scale sensitivities. In addition, OEM of the MEMS accelerometer chips and modules are available with competitive pricing. Higher "g" accelerometers up to 20,000 g are provided on request.
(Testing & production processes)
– Automotive racing
– Semiconductor and consumer electronics manufacturing
– Down hole drilling
– Seismic monitoring
– Earthquake detection
– Robotics
– Security systems
– Crash testing
– Machine control
– General vibration testing, monitoring & analysis
– Vehicle dynamics
– Distance & position calculation
– Shipping recorders

Markets
– Automotive
– Transportation
– Energy generation
– Crash & impact testing
– Aerospace
– Pipeline monitoring
– Wind turbines

For more information, CONTACT US now with your application details.
Please complete the enquiry form below for specific information and advice on Variable Capacitance.
Fields marked with a '*' are mandatory and must be filled.