Thermal Imager
Thermal Imager (also referred to as thermal camera, infrared camera or infrared imager) based on infrared imaging technology provides visual thermograms that are images of radiation in infrared range of 9-14µm. Thermal imaging camera detects heat patterns, temperature values or changes in objects and is used for condition monitoring in machinery and medical industry, or process monitoring in manufacturing.
| Products | Measuring ranges | Optical resolution | Spectral range | Traits |
| --- | --- | --- | --- | --- |
| Compact, high speed, precise measurement thermoIMAGER TIM 160 | -20~100; 0~250; 250~900; ~1500* | 160x120PX | 7.6-13 µm | – High thermal sensitivity of 0.08K (NETD) – Exchangeable lenses with 6°/23°/48° FOV or 80°FOV – High image frequency of 120 Hz – Power supply and operation via USB – Extremely lightweight (195g) and robust (IP67) – Ambient temp. up to 240?with cooling jacket* – Analogue input and output, trigger interface |
| New Bi-spectral technology thermoIMAGER 200 | -20~100; 0~250; 250~900; ~1500* | 160x120PX (IR) 640×480 PX (VIS) | 7.5-13 µm | – Combines 2 images into 1 – Real time thermography with 128Hz/32Hz frame rate via USB 2.0 interface |
| Extremely high optical resolution, high speed thermoIMAGER 400/450 | -20~100; 0~250; 250~900; ~1500* | 382x288PX | 7.5-13 µm | – High thermal sensitivity of 0.04K (NETD) – Exchangeable lenses with 30°x 23°/ 13°x 10°FOV – Real time image recording with 80Hz |
| Smallest VGA infrared camera in the world thermoIMAGER 640 | -20~100; 0~250; 150~900; | 640x480PX | 7.5-13 µm | – Excellent thermal sensitivity of 75mK (NETD) – Lens: 33°FOV – Image recording in real time at 32Hz – Extremely lightweight, robust and compact – IP 67 protection class |
| Specially designed for glass industry thermoIMAGER G7 | -20~100; 0~250; 150~900; | 382x288PX | 7.9 µm | – Thermal sensitivity of 130mK (NETD) – Lens: 38° x 29°FOV; 64° x 49°FOV – Switchable frame rate 80Hz or 27Hz – Line scan feature via license-free analysis software |
| Specially designed for hot metalS, graphite or ceramics thermoIMAGER TIM M1 | 450~1800; 500-1800; 600-1800; | 764x480PX | 0.92-1.1 µm | – Thermal sensitivity |
| | |
| --- | --- |
| Measuring range | -20 to +1800 |
| Spectral range | 0.92-13 µm |
| Optical resolution | 764×480 pixels; 640×480 pixels;382×288 pixels;160×120 IR/ 640×480 VIS;160×120 pixels; |
*-Optional
A thermal imager consists of five components: an optic system, sensor (detector), amplifier, signal processing electronics, and display. These components incorporate in a heat-resistant, rugged, and waterproof housing and work together to render infrared radiation, such as that given off by warm objects or flames, into a visible light representation in real time. The camera displays infrared output differentials, so two objects with the same temperature will appear to be the same "color".
Each body with a temperature above the absolute zero (-273.15°C =0 Kelvin) emits an electromagnetic radiation from its surface, which is proportional to its intrinsic temperature. A part of this so-called intrinsic radiation is infrared radiation, which can be used to measure a body's temperature. This radiation penetrates the atmosphere. With the help of a lens (input optics) the beams are focused on a detector element, which generates an electrical signal proportional to the radiation. The signal is amplified and, using successive digital signal processing, is transformed into an output signal proportional to the object temperature. The measuring value may be shown in a display or released as analogue output signal, which supports an easy connection to control systems of the process management.
The illustration below shows the general construction of an infrared thermometer
With the help of input optics the emitted object radiation is focused onto an infrared detector. The detector generates a corresponding electrical signal which then is amplified and may be used for further processing. Digital signal processing transforms the signal into an output value proportional to the object temperature. The temperature result is either shown on a display or may be used as analog signal for further processing. In order to compensate influences from the surroundings a second detector catches the temperature of the measuring device and of his optical channel, respectively. Consequently, the temperature of the measuring object is mainly generated in three steps:1. Transformation of the received infrared radiation into an electrical signal 2. Compensation of background radiation from thermometer and object 3. Linearization and output of temperature information.For more details, please
download
the Basics of non-contact temperature measurement.
Thermal imager
can detect and measure temperatures on a surface. The thermal imager series TIM is designed for precise measurement tasks due to the high thermal sensitivity. Powered from just one USB cable, the system is absolutely plug and play.Different classes of performance models allow the use of an appropriate model for the right applications.
Highlights:
Temperature distributions at surfaces can be captured within 1ms interval
Combination and synchronization of visual image (VIS) and thermal image (IR)
USB cable extension up to 100m (over Ethernet)
LabVIEW interface/port
For more details please download product brochure
here
.
Please view some of the application images below.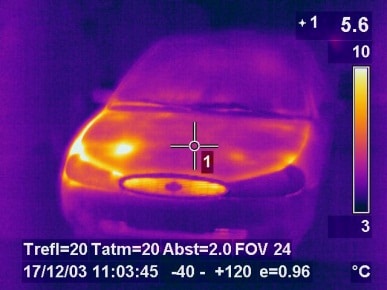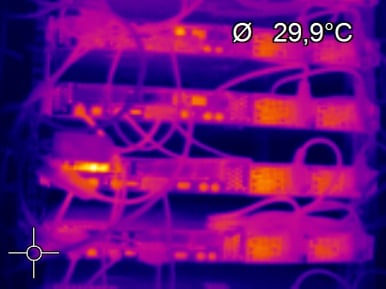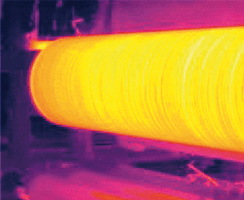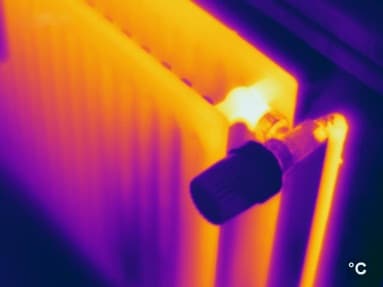 For more information, CONTACT US now with your application details.
Please view videos relating to this product.
Please complete the enquiry form below for specific information and advice on Thermal Imager.
Fields marked with a '*' are mandatory and must be filled.