Speed & Length (Metal)
High accuracy, non-contact speed sensor inspired by "picket fence effect", adopted spatial frequency filter method is designed to help metal (steel, aluminium, stainless steel, etc.) manufacturers improve their product quality whilst reduce the cost of production. The increasing price in raw material over the years has initiated a strong demand for process optimization to allow maximum material utilization on production lines in rolling mills. Strict thickness tolerances and reliable speed measurement are essential to achieve this goal; therefore, enhancing the ability in rolling mill controls and choosing precise speed sensors with synchronization function for speed/thickness measurement is the way to go!
Products
Measuring ranges
Resolution
Linearity
Output
Digital data interface
Speed sensor for metal processing industry
ASCOspeed 5500
3km/min
0.1mm/ 0.001m/min
±0.05%
Standard: 2 encoder outputs (A,B,/A,/B), 2 alarm, 3 statusOptional: 2 further encoder outputs (A,B,/A,/B)synchronization output; analogue output (4-20mA)All outputs opto-insulated
Standard: 1 x RS232Optional: 1 x RS232, 1 x RS232 o. RS422Optional: EtherCAT-ready
| | |
| --- | --- |
| Measuring range | 3km/min |
| Linearity | ± 0.05% F.S. |
| Resolution | 0.1mm/0.001m/min |
| Digital Interface | RS232 (Std) RS422 (Opt) EtherCAT-ready (Opt) |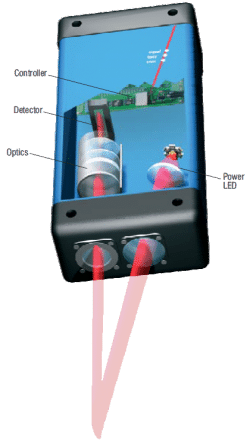 The ASCOspeed sensor operates based on the signal phasing group method (common model as the "picket fence effect") and therefore a further development within the proven spatial frequency filter technology, where the moved material surface is measured by means of the precise silicon grid structure of the detector and converted into an electrical frequency which is proportional to the speed of the object.A high-performance LED (Class 1) is used as the light source. The back-scattered light from the passing object surface going through a lens then strikes the detector which generates the measurement signal. Fast signal processing structures register microseconds measurement of current speed values with a reliable minimum averaging output time of 0.5ms, and monitor material speed up to 3000m/min.The 5500 speed sensor has free scaleable quadrature pulse output channels therefore can be used alternatively to rotary shaft encoders. The synchronous operation enables several process measuring devices operate synchronously measuring different speeds from skin pass level to mass flow control using trigger pulse from the controller that precise results in acceleration phases are achieved.

ASCOspeed Sensor 5500
combines sensor and controller in one robust case and guarantees use in many different systems without issues. The speed sensor operates autonomously with a low 24VDC power consumption. Integrated internal temperature monitoring increases the reliability in operation. Standardized interfaces open up many possibilities for the users in process automation production lines.
System Benefits:
– Non-contact and no delay function; – Safe LED light source (LED Class 1); – Robust and not prone to errors due to plausibility test; – Hardware synchronization function of several devicesFor more details pleases download product brochure
here
.
Applications for ASCOspeed sensor– Controlling complex production systems; – Rolling mills, tension levellers and stretch formers; – Inspection and coating systems; – Cutting lines, winding machines, and extruding plants; – Inspection, welding and bending lines; – Wire rod mills and profile line
As speed sensor:
actual speed in technical rolling mill control
exact strip speed for cutting lines
As thickness sensor:
strict strip thickness measurement to rolling gap
stretch coefficient tasks (thickness removal) during rolling
thickness & width measurement of steel strips
profile & thickness measurement on aluminium plates
Please view our PDF brochures relating to this product.
visit here
.
For more information, CONTACT US now with your application details.
To view the brochure, you will need to have a PDF reader. If you don't have one installed, please download a free copy from the
Adobe PDF Reader
site.
Please complete the enquiry form below for specific information and advice on Speed & Length (Metal).
Fields marked with a '*' are mandatory and must be filled.