Personal Simulator for heavy equipment. Simulation results are automatically saved, so trainees can progress at their own pace without trainer supervision. The advantage of training with these Personal Simulator is a fraction of the cost of training with a real heavy vehicles, especially considering that even small accidents due to operator inexperience can mean thousands of dollars in replacement parts and downtime.
Bestech Australia is the sole distributor of Simlog personal simulators that facilitates business reducing training costs and improving efficiency.For more information, 
CONTACT US
 now with your requirements.
| Industry | Personal Simulator | Description |
| --- | --- | --- |
| Mining | Electric Rope ShovelMining TruckWheel LoaderOff-Highway TruckHydraulic ExcavatorBulldozerDrill Jumbo | puts you at the controls of an electric rope shovel at work in a typical mine site, in interaction with a simulated Mining TruckThe simulation software puts you at the controls of a modern heavy hauler at work in a typical mine site, in interaction with a simulated Electric Rope Shovelputs you at the controls of a modern wheel loader at work in a typical quarry,both stick-steering (as in large wheel loaders) and steering wheel steering (as in smaller ones) are availablesoftware puts you at the controls of a modern "rock truck" at work in a typical quarry, in interaction with a simulated Wheel Loader. You can even use the keyboard function keys and mouse controls during the simulation to change the point of viewputs you at the controls of a modern hydraulic excavator at work in a typical construction site with both simulated dirt and large boulders, in interaction with an articulated dump truckputs you at the controls of a medium-sized bulldozer (also called "dozer", "tractor", "crawler tractor", "track type tractor") in a typical construction siteThe simulation software puts you at the controls of a modern twin boom Drill Jumbo in an underground mining tunnel (drift) |
| Forestry | HarvesterForwarder | The simulation software puts you at the controls of a typical tracked carrier (swing machine) equipped with an articulated boom and free-swinging "dangle-type" harvester head. You can even change the viewpoint during the simulation at the touch of a buttonputs you at the controls of a typical forwarder equipped with an articulated boom, telescoping extension, and free-swinging grapple attachment |
| Construction | Mobile CraneTower Crane | puts you at the controls of a modern rough-terrain mobile crane equipped with telescoping boom and jib, and a variety hookblocks. The dashboard displays include boom angle, load radius, boom length, boom section telescoping and mode, relative hoist speed, region of operation, and Load-Moment Indicator; new 3D modeling of the crane and dashboard; sophisticated graphics, with shadowing and a mirror; more realistic simulation physics, with slings that go "slack" and a boom that deflects; two brand new Simulation Modules for "Pole Topping" and "Pole Placement"simulation software puts you at the controls of a modern freestanding top-slewing tower crane with trolley jib. Instrument readings include working slew angle, working radius, lowering depth (hook height), and load weight. There is also a simulated three-way switch for hoist gear selection |
| Material Handling | ForkliftWheeled Material Handler | puts you at the controls of a typical "factory" forklift (also called "forklift truck" or "lift truck") with rear-wheel steering; a wide variety of situations typical of factories, warehouses, and distribution centres are presented, in order to address the training needs of customers using different operational practicespersonal Simulator puts you at the controls of a typical wheeled material handler equipped with an articulated boom, four-tine grapple, elevating cab, and outriggers |
Mining:
Electric Rope Shovel Personal Simulator;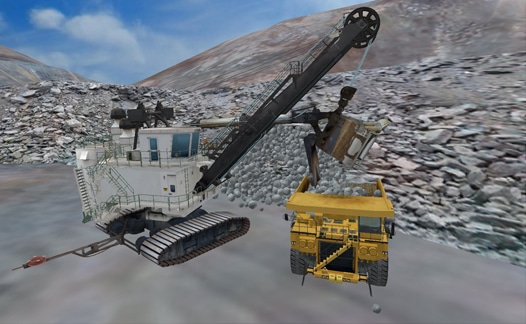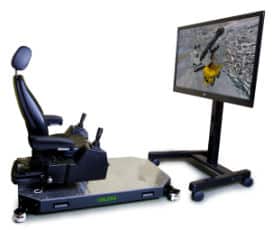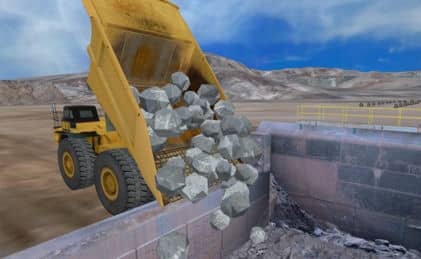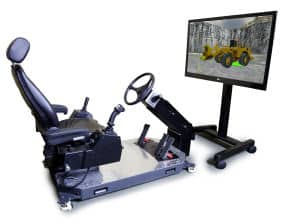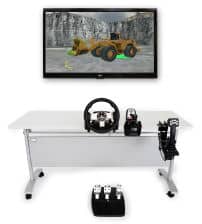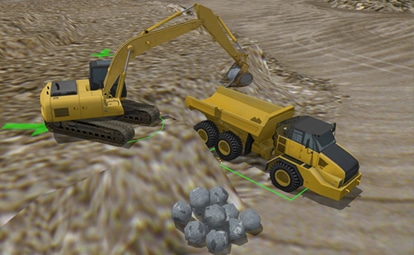 Drill Jumbo;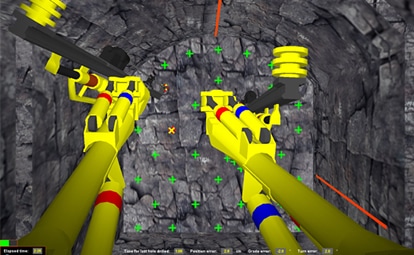 Forestry:
Harvester;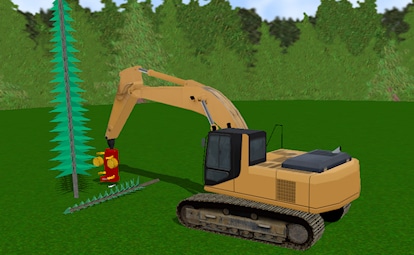 Forwarder;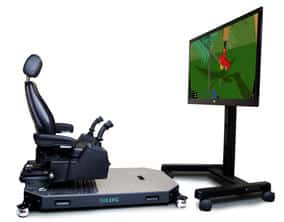 Construction: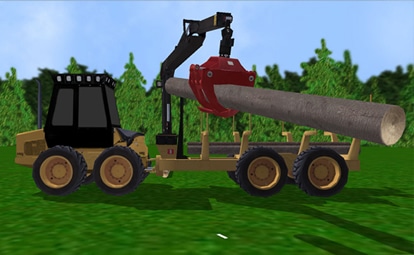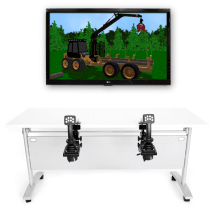 Mobile Crane;
Tower Crane;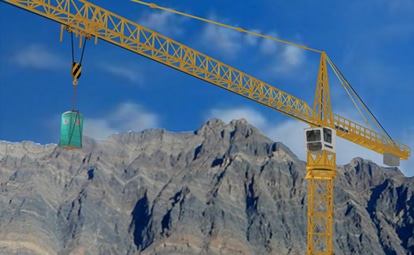 Material Handling: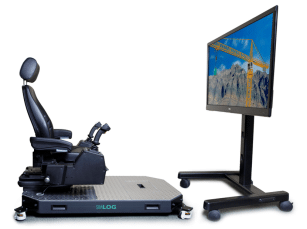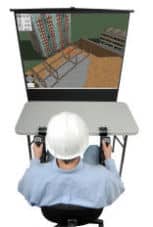 Forklift;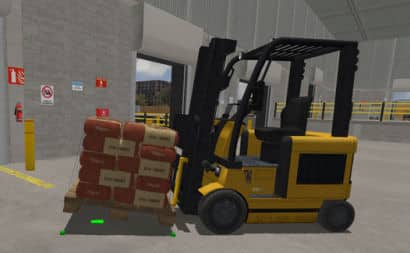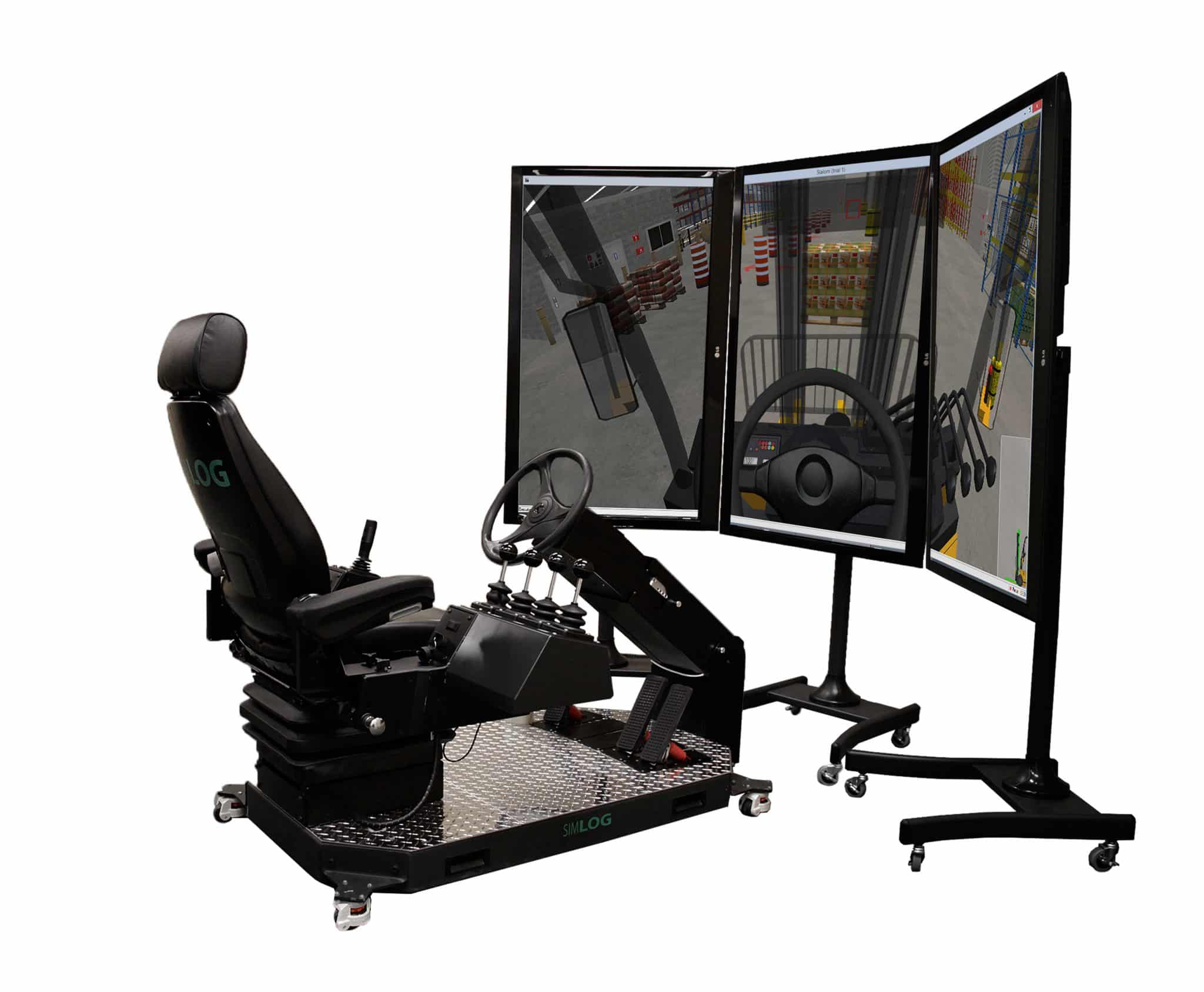 Wheeled Material Handler;
Please view videos relating to their specific products.Hydraulic Excavator Personal SimulatorForklift Personal SimulatorMobile Crane Personal SimulatorMining Truck Personal Simulator Electric Rope Shovel Personal SimulatorWheel Loader Personal Simulator Bulldozer Personal Simulator
Enquire Now