Railway condition monitoring with 2D laser profile scanner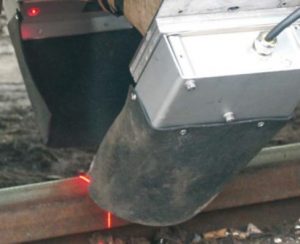 Railway tracks are subjected to wear and tear due to their continuous exposure to weather and strenuous operation. Railways are extensively utilized in the transport industry for transporting goods or passengers. Due to the increase in train capacity and deployment of high-speed modern train, the tracks are subjected to a higher degree of stress and load. This will progressively damage the rail tracks which render it unusable for transport. It is necessary for rail company to ensure that the tracks remain in good working condition as the consequences of track failures can be fatal.
One of the critical parameters to be monitored is the condition of the rail tracks head. If the wear is too high, the train may potentially derail from its course which could be fatal. Condition monitoring of railway tracks has been previously done with manual inspection. Manual inspection is costly and often time consuming. In addition, rail operators are also required to shut down the affected line which may potentially impact the travel schedule. Therefore, automated inspection technique is needed to improve the efficiency and reduces the shutdown period. A 2D laser scanner is one of the most preferred sensor technology for measuring in this type of application.
High Speed 2D Laser Profile Scanner for Railway condition monitoring
The scanCONTROL 2D laser profile scanner from Micro EpsilonA has been previously used for railway condition monitoring application to capture the profile of railway track. The laser scanner can offer high speed measurement with data capture rate up to maximum of 4kHz. For a more accurate measurement, two laser scanners can be utilized to capture the entire rail head profile. Up to four synchronously operated scanners can be mounted into one measurement wagon. This enable simultaneous profile measurement on both side of the rail tracks.
This scanCONTROL system can record profiles in high speed mode up to 100km/hr. Therefore, it is considered as one of the most efficient condition monitoring system in the world for rail track monitoring. The recorded profiles are also continuously compared with the reference profile stored in the database. Therefore, any defects can be identified in real-time and necessary maintenance actions can be scheduled with a more efficient process. The locations of the faulty tracks can also be easily identified as the deviations from the reference data are marked on a map using GPS. The systems can also be used under different weather conditions and can be customized to include additional protection housing.
For expert solutions on Railway condition monitoring, Bestech Australia can assist you and offer a full-scale integrated solution. Contact us now at 0395405100 or enquiry@bestech.com.au
Sensor technology used:
scanCONTROL 2D/3D Laser Profile Scanner