Compact high precision confocal sensor for high volume application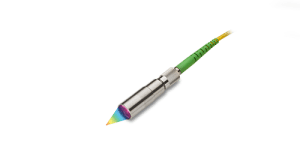 Bestech Australia now offers the new confocal chromatic sensor from Micro-Epsilon, confocalDT IFS2402-2, for measuring displacement and thickness of transparent materials. This high precision sensor has compact design with just 12mm diameter, makes it possible to be integrated to area where space is restricted.
The IFS2404-2 is integrated with special lens, enabling nanometer resolution measurement at a relatively small spot size. The sensor is to be operated with the confocalDT 2421/2422 controller. This confocal system offers an excellent price-to-performance ratio and therefore is ideal for OEM applications.
The confocalDT 2421/2422 controllers are available either as a single- or a dual-channel system. They are economical sensors offering wear-free measurement and capable of rapidly compensating for changing surfaces. This has set new standard for confocal sensors in industrial measurement tasks. The sensors can be linked to the PC via an EtherCAT interface for viewing real-time data.
Key Feature of IFS2404-2:
2mm measuring range
40nm measuring resolution
IP65 protection
One-sided thickness measurement of transparent materials.
For full range of our confocal sensors, please visit this page