Laser Triangulation Sensor
Laser triangulation sensors offer accurate, fast and reliable measurements even in continuous industrial operations due to high measuring rate. The sensors are extremely compact with integrated controller, and therefore suitable for installation in restricted and small space. A wide variety of models are available for measurements of different surface materials and applications across different industries. Equipped with intelligent interfaces for integration with robots, these laser sensors are ideal in almost all measurement tasks in industrial automation
| Products | Measurement ranges | Resolution | Measurement Rate | Special features & Application |
| --- | --- | --- | --- | --- |
| Compact Laser Triangulation displacement sensor optoNCDT 1320 | 10 -100 mm | 0.1 % F.S.O | 2 kHz | – Compact, miniaturized design – Auto target compensation (ATC) – Small object measurement |
| Smart Laser Triangulation displacement sensor optoNCDT 1420 | 10 -500 mm | 0.1 % F.S.O | 4 kHz | – Compact, miniaturized design – Auto target compensation (ATC) – Small object measurement – High precision |
| | |
| --- | --- |
| Measuring range | 0.5-1270mm |
| Linearity | 0.6µm, ≤ ±0.03% F.S.O. |
| Resolution | 0.16µm, 0.005% F.S.O. |
| Measuring rate | 500 Hz – 49.02k Hz |
| Temperature | 0-55° C |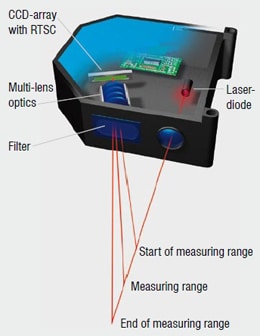 A laser diode projects a visible spot of light to the target, and the light reflection is focused via an optical lens on a light-sensitive element or device. Optical displacement sensors measure with a long reference distance and a very small size of the measuring light spot.
Our laser triangulation sensor provides measurement range from 0.5-1270 mm with high accuracy and resolution utilizing CCD, CMOS and DSP technologies. State of the art intelligent model have integrated controller that is the ideal solution for industrial applications.For more details pleases download product brochure
here
.
Please view our PDF brochures relating to this product.
For more information, CONTACT US now with your application details.
To view the brochure, you will need to have a PDF reader. If you don't have one installed, please download a free copy from the
Adobe PDF Reader
site.
Please view videos relating to this product.
Please complete the enquiry form below for specific information and advice on Laser Triangulation Sensor.
Fields marked with a '*' are mandatory and must be filled.