Laser Long Distance
Optoelectronic sensors are designed for non-contact distance, displacement and speed measurements. Due to the long measuring distance, these long range sensors are ideal for measurements on critical surfaces from a safe distance, e.g. hot metal, and are particularly useful in filling level measurement, height measurement & positioning of lifting systems, overhead conveyors, crane systems, and more safety applications. Long service life and high accuracy are enabled by the non-contact and wear free techniques.
| | |
| --- | --- |
| Measuring range | 0-3000m |
| Linearity | ± 2mm |
| Repeatability | ±2 mm |
| Resolution rate | 0.0125 mm |
| Response time | 0.5 ms |
| | |
| --- | --- |
| Measuring range | 0-3000m |
| Linearity | ± 2mm |
| Repeatability | ±2 mm |
| Resolution rate | 0.0125 mm |
| Response time | 0.5 ms |
Laser long range sensors are based on Time-of-Flight and phase comparison measurement principles.
Time-of-Flight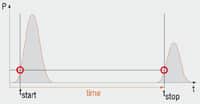 A laser diode in the sensor produces short laser pulses which are projected onto the target. The light reflected from the target is recorded by the sensor element. The time light pulse takes to travel to the target and back determines the measuring distance. However, the time for a single roundtrip is not measured directly. Instead, it will measure the time delay of the laser pulse returning from the target. The integrated electronics in the sensor provides the value of distance using the time-of-flight, and generate analogue and/or digital output. Sensors using this principle are not sensitive to external light.
Phase comparison measurement

High frequency modulated laser emits typically sinusoidal signal and the phase of the outgoing signal is compared with that of the reflected light. Sensors using this principle operate with high accuracy for measurement distance up to 150 metres.
The sensors have extremely wide measuring range with outstanding repeatability and fast responding time. Due to compact design, excellent performance/price ratio is offered. Full range of models can be used indoors and/or outdoors for both static and moving measurands.For more details pleases download product brochure
here
.
Please view our PDF brochures relating to this product.
More application portfolio please
click here
.
For more information, CONTACT US now with your application details.
To view the brochure, you will need to have a PDF reader. If you don't have one installed, please download a free copy from the
Adobe PDF Reader
site.
Please complete the enquiry form below for specific information and advice on Laser Long Distance.
Fields marked with a '*' are mandatory and must be filled.