Industrial factory automation uses the combination of intelligent control systems to handle different process and tasks. The challenge lies in effectively connect the process from development, production and logistics. For that, Bestech Australia offers smart and high precision sensors to reliably monitor these processes due to their integrated algorithm and versatility to operate in industrial environment. We have sensors that are able to withstand operation in industrial environment and possess the capability to connect with industrial computer interface and measurement system.
We offer a variety of sensors suitable to operate in factory and plant automation setups.
Laser Triangulation Dispacement Sensors
Capacitive Displacement Sensors
Fibre Optic Sensors
Laser Scanners
Optical Micrometer
Universal Laser Sensors
True Color Sensors
Inductive Sensors
Edge detection of fabric strips in the cutting machine
For fabrics manufacturers, the strip materials need to be cut into a defined size during processing. The fabrics may consist of various types of materials and may be partly perforated. Cutting the fabrics into the precise size is essentials to reduce material waste. To achieve optimal results, the exact position of the materials needed to be determined before further processing. The sensors used for determining position of the fabrics have to correctly recognize the materials or it may cause machine malfunction due to missed controller signals.
Automated monitoring and identification of bottles in breweries
In bottling or brewery plant, an automated inspection system is required to identify empty containers when the bottled crates are received. Micro-Epsilon agent, Tipteh has developed an inline test system that is equipped with five scanCONTROL 2900-50 laser line triangulation sensors. The system scans the crates from above as they travel along the conveyor belt.
One-sided thickness measurement of container glass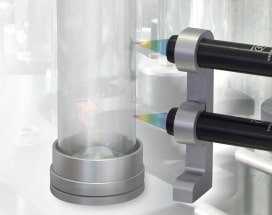 Wall thickness and roundness of the bottles are crucial parameters that define quality in glass production. They must be thoroughly inspected during the production process. The faulty products, if found, should be rejected and directly returned to the glass melt for further processing.
Color detection of kitchen fronts
Color detection is an indispensable tool used in the automation industry to evaluate objects. While designing kitchen fronts, it is important to keep the desired color by the customer in place and avoiding any color deviation that might lead to customer dissatisfaction. Color sensors are used to evaluate color deviations in objects that are imperceptible to the human eye to ensure that the customer gets what he asked for.
In-line detection of protective film on PVC window frames
The PVC window frames are provided with a protective film to protect them from scratches and dirt. This film is applied to the window profile after it is extruded. Hence, it is necessary to ensure that the film has been applied correctly to the window frame for a smooth production process. To facilitate this assurance, color measurement sensors are used to check the film application.