Inductive
Inductive displacement sensors are used extensively in applications for automated processes, quality assurance, test rigs, hydraulics, pneumatic cylinders, and automotive engineering due to their highly valued advantages, such as maintenance-free, high measurement accuracy, extreme robustness and good temperature stability. The electromagnetic sensors of the induSENSOR series from Micro-Epsilon are based on well-known inductive and eddy current principles that have approved for their ruggedness and reliability under harsh environments.
InduSENSOR Series
Measuring ranges
Resolution
Linearity
Traits
LVDT sensor series DTA DTA-1D-..DTA-25D-
1 – 25 mm
–
± 0.15 % F.S.O.
– Free moveable plunger
– Linearity max. 0.003mm
– Sensibility max. 133mV/Vmm
– Primarily used in vehicles and machines
LVDT gauges series DTA DTA-1G-..DTA-10G-
1- 10 mm
–
± 0.3 % F.S.O.
– Linearity max. 0.003mm
– Repeatability max. 0.15µm
– Diameter ø8mm
– Options with pneumatic push
– Excellent price/performance ratio
EDS long stroke sensors EDS-100..EDS-630
100 – 630 mm
0.05% F.S.O
± 0.3 % F.S.O.
– Linearity max. 0.3mm
– Resolution max. 0.05mm
– High pressure resistance with stainless steel housing
– Oil resistant
Inductive-linear sensor LDR serieswith plunger LDR-10-..LDR-50-
10- 50 mm
–
± 0.3 % F.S.O.
– Linearity max. 0.025mm
– Sensibility max. 51mV/Vmm
– Operating temperature range up to 160°C
– Compact and short sensor construction
– Small sensor diameter
– High signal quality
– For space restricted applications
Inductive-potentiometric sensor LVP series With plunger LVP-50..LVP-200
50 – 200 mm
0.03% F.S.O
± 0.25 % F.S.O.
– Linearity max. 0.125mm
– Resolution max. 0.015mm
– Integrated microelectronics controller
– Compact design: short installed length
– Screened against interference fields
Inductive-potentiometric sensor VIP series With measuring ring VIP-50..VIP-150
50 – 150 mm
0.03% F.S.O
± 0.25 % F.S.O.
– Linearity max. 0.25mm
– Resolution max. 0.015mm
– 55% reduced installation space: Only housing length to be considered
– Patented measurement principle: Contactless moving ring
– Parallel mounting possible
Inductive sensors for custom applications Special models
– Customer-specific sensor design
– Adaptable measuring range
– Integrated or external electronics
– Target as sleeve or plunger
– Robust sensors for harsh enviroments
– ATEX versions
– Sensor for high operating temperature up to 125°C
– Specific requirements to high vibration resistance
mainSENSOR Magneto-inductive Displacement Sensors MDS-45-
– Measuring ranges up to 55mm
– Easy setup for switching points
– Linear output
– High sensitivity and temperature stability
– Long service life
– High dynamics
– lat plastic housing available
– Measurement can be carried on through non-ferromagnetic materials
– OEM for high volume
– Suitable for speed measurement
| | |
| --- | --- |
| Measuring range | 1-630mm |
| Linearity | ±0.15%…±0.3%F.S.O. |
| Resolution | 0.03%..0.05% F.S.O |
LVDTs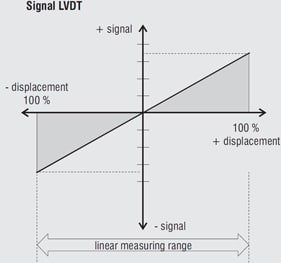 EDS (based on eddy current effect)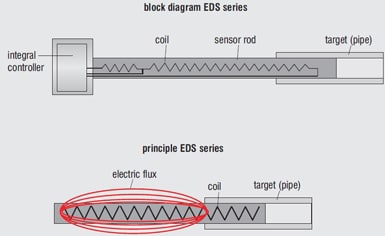 LVP & VIP (Patented parallel mounting)

VIP series with measuring ring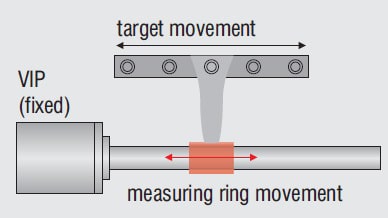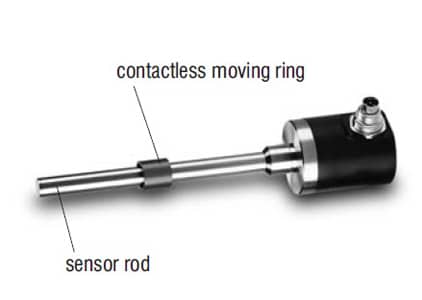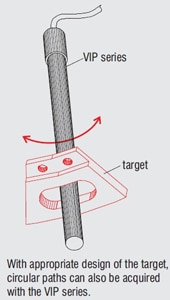 LVP series with plunger (core)

Linear inductive displacement and position sensors
based on electrimagnetic, eddy current, and magnetic inductive effects are extensively used in applications where setup and process time is shortened for convenience, operational readinewss and safety is enhensed and therefore production capacity is improved. induSensors Series are used successfully in both single and high volume OEM industrial applications.
For more details pleases
download
product brochure here.
Please view our PDF brochures relating to this product.
More application portfolio please
click here
.
For more information, CONTACT US now with your application details.
To view the brochure, you will need to have a PDF reader. If you don't have one installed, please download a free copy from the Adobe PDF Reader site.
Please view videos relating to this product.
Please complete the enquiry form below for specific information and advice on Inductive.
Fields marked with a '*' are mandatory and must be filled.