Hydraulics & Pneumatics
Hydraulics and pneumatics training systems/ independent work stations with computer based learning programs for industrial and mobile applications. FPTI™ created quintessential learning environment to help students gain maximum comprehension of hydraulic system operations. Affordable trainers and simulators of fluid power systems provide teachers an effective teaching strategy and the proven tool to help students achieve learning goals in hydraulics.
Product
Model/ Module
Description
Hydraulic Training Systems

MF102 Series
– MF102-H
– MF102-H-TS
– MF102-H-TSE

– Foundation building training system MF102-H is designed to help students connect the dots to understand hydraulics theory. Pascal's Law, inertia, power, resistance, pressure differential, series, parallel
– Troubleshooting training systems MF102-H-TS and MF102-H-TSE are using component performance testing technology to provide additional 40+hrs course in troubleshooting skills

Pump Cavitation Training System
– MF200-CAV

Most effective visual aid for teaching and learning cavitation:
– How the inlet side of a hydraulic pump works
– Why it is critical to establish a "trend" for pump inlet restriction
– How and why cavitation occurs
– Safe and effective diagnose procedures for determining the root-case of cavitation


Hydrostatic Transmission & Hydraulic Steering Training System
– MF300-VCLS

2-in-1 training system for hydraulic steering & hydrostatic transmissions teaching and learning:
– Fully functional hydraulic steering system typically found on articulated machines
– Fully functional typical hydraulic transmission found in skid-steer type loaders and other industrial and mobile machinery


Hydrostatic Transmission Training Simulator
(w. optional Hydraulic Implement & Articulated Steering System Module)
– MF500-HT-TSE
MF500-IS-TSE

Skid steer loaders are not recommended for use in classrooms because they are host to a number of unique safety hazards:
– Unexpected vehicle motion
– Exposed rotating wheels and shafts
– Noxious exhaust emissions
– Hot engine components
– Improperly supported vehicle
– Possible disconnect of critical manufacturer installed safety devices
– Confined space, etc.
The MF500-HT-TSE Hydrostatic Transmission Training Simulator addresses all of these safety hazards and is built specifically for the classroom environment with the safety of the students and instructors in mind.

Cutaway Models
– DAC-CM
Cylinder (double-acting, single-rod)
– DCV-08-CM
D08 directional control valve
– MDCV-CM
Mobile directional control valve
– MDCV-LS-CM
Mobile directional control valve with load sense
– OSV-CM
Orbitrol steering valve
– PORV-CM
Pilot-operated pressure relief valve
– GP-CM
Gear pump
– PCP-CM
Axial piston, variable volumn, pressure compensated pump
– VDP-CM
Over-centre, variable displacement pump
– Lightweight
– Pedestal-mounted
– Plated
– Amazing detail
– Fully functional
– Custom products
Instrumentation Training Kits
Proactive Maintenance & Diagnostic Test Kit
– TK500
Pressure / Leak Test Kit
– TK2000
Pneumatic Training Systems

Training System
– MF700-PN
– Designed for safe, clean work area and clutter free
– Affordable trainer that grows with your budget and needs
CD'S & DVD's

Safety Presentation
– The Lethal Strike

15 mins presentation covers:
– Typical cause of injection injuries
– What to do if you suffer an injection injury
-How to properly manage the victim of an injection injury
– What NOT to do if you become the victim of an injection injury
-How to make sure the victim receives the proper medical treatment
– The responsibilities of everybody involved with the injury
Also features:
Interview with a hand surgeon
Interview with a medical doctor

Fluid Power Symbols
– How to Interpret Fluid Power Symbols Book with Interactive CD ROM

The fluid power industry, in conjunction with ANSI and ISO, develop a system of symbols which are capable of crossing language barriers and can promote a universal understanding of fluid power systems.
This interactive CD is designed to make the task of learning symbols interesting and challenging. Symbols and components are brought to life at a click of a mouse, and a quiz will be given at the end of each lesson along with a 185p textbook.

Hydraulics Training Systems
MF102 Series Foundation building masterpiece
MF200-CAV Pump cavitation training
MF300-VCLS 2-in-1 system for hydraulic steering & hydrostatic
transmission teaching
MF500 Series Hydrostatic transmission training simulator
Cylinders & Control valve cutaway models
Pneumatics Training Systems
MF700 Must-have teaching system for basic/electro- pneumatics with plug-n-play components
Fluid power is the energy transmitted and controlled through use of pressurised liquid (hydraulics) or gas (pneumatics) in a circuit. This power source controls four main motion categories: force, position, velocity and acceleration. FPTI™ simulators adopt identical circuits used on today's state-of-the-art industrial and mobile hydraulic systems providing students opportunities to learn how to work safely with hydraulics, applied hydraulic principles and laws, how to correctly setup and adjust hydraulic components, how to troubleshoot components and systems in real-time, check valves, accumulators and actuators, pressure control valves, hydraulic pumps, flow control valves and flow dividers, reservoirs, coolers, hoses, and connectors, etc. With the "-TS" models, an extensive component package has been added to increase the capability to include a comprehensive course in troubleshooting hydraulic components using leakage path analysis methods (every component with a bypass orifice allowing the oil bypass the valve to imitate a valve worn out situation).
Here is how the learning system works. At the conclusion of the comprehensive and highly interactive classroom instruction, the students are given a lab assignment. They assemble at their respective simulators and construct the circuit. They also have to set the system's operating parameters. Each activity starts out with an OSHA or MSHA mandated lockout and tagout procedure.
The activity in the student workbook instructs them to activate one or more switches which instantly transforms one or more "healthy" components into one or more worn components. Using the identical diagnostic instruments they will use in the "real-world," the students begin the process of testing the "suspect" components one at a time until all the defective components have been identified.
There is absolutely no more effective way to teach, or learn, hydraulics. Moreover, students learn generic troubleshooting procedures, which prepare them to tackle problems on any type of industrial or mobile hydraulic system.
Fluid Power Hydraulic and Pneumatic Training Systems are masterfully crafted based on feedback from real life lecturers and students teaching and learning hydraulics and pneumatics. These versatile hydraulic and pneumatic trainers are much appreciated amongst existing customers in technical colleges, universities, military training facilities as well as corporate training facilities.
Students expect to receive extensive practical knowledge and skills required for being component rebuild technicians, diagnostic technicians, drafting personnel, engineers, field service technicians, maintenance planners, multi-craft technicians, sales engineer, system designers and technical writers.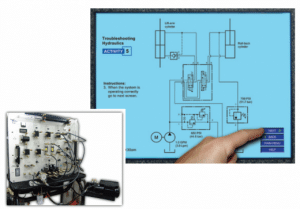 Teachers can expect high levels of student engagement, lifting achievement of student performance, 40+ hours Powerpoint® courseware plus another 40 hours advanced diagnostics with teaching aids such as textbooks, instructor answer books, and interactive CDs.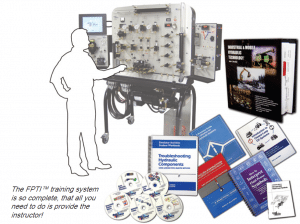 Reasons to have an FPTI™ simulator in your laboratory:
– Safety
– Industrial or mobile-based curriculum
– Convenient "Plug-n-Play" module format
– No exhaust emissions
– Unlimited accessibility
– Affordable, maximize your investment
– No aggravating noise
– Eliminate oil management
– The "perfect" classroom
– Targeted training

For more details pleases download product brochure
here
.
Please view videos relating to the products.
Please complete the enquiry form below for specific information and advice on Hydraulics & Pneumatics.
Fields marked with a '*' are mandatory and must be filled.