Fixed optics micrometer
Micrometers are primarily used as part of the manufacturing process and quality control of a production line, measuring continuous material and single parts. The relevant technologies used in a micrometre, such as laser intensity measurements and CCD chip imaging, are suitable for a wide variety of applications.
Products
Measuring ranges
Resolution
Linearity
Measuring rate

Miniature laser micrometer
optoCONTROL 1200
2-30 mm
0.5% F.S.O.
± 2% F.S.O.
100 kHz

Laser micrometer w. large range
optoCONTROL 1202
72-98 mm
0.01% F.S.O.
± 0.2% F.S.O.
400 Hz

Online micrometre
optoCONTROL 1220
28 mm
0.01%F.S.O.
± 0.08%F.S.O.
200 Hz

Online micrometre
optoCONTROL 2500
34 mm
0.003% F.S.O.
± 0.03% F.S.O.
2.3 kHz

Precision micrometre
optoCONTROL 2520
46 mm
0.002% F.S.O.
± 0.03% F.S.O.
2.5 kHz

Online micrometre
optoCONTROL 2600
40 mm
0.00025% F.S.O.
± 0.0075% F.S.O.
2.3 kHz
| | |
| --- | --- |
| Measuring range | 2-98 mm |
| Resolution | 0.00025-0.5% F.S.O. |
| Linearity | 0.00025-0.5% F.S.O. |
| Application | Ideal for process control |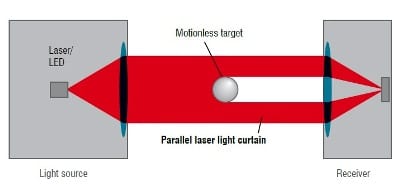 Our micrometers operate based on the ThruBeam principle. A transmitter produces a parallel light curtain that is transmitted via a lens arrangement into the receiving unit. The beam is interrupted if there is an object in the light path. The shadowing generated by this object is recorded by the receiving optical system and output as a geometric value. Several types of ThruBeam technology are used across the four different sensor models in the range so as to cover as wide a field of applications as possible. Optical micrometers can be used for dimensional measurements in production, quality assurance and service tasks. Factors such as the diameter, gap, height, position and also the received amount of light or opacity can be measured.
optoCONTROL 1200 is based on the principle of light quantity measurement. The light of a red laser diode is spread out by a lens to a parallel light curtain which is aimed at the receiving unit. In the receiving unit, the light is guided via various filters and lenses through a precision shutter to a light-sensitive detector. The amount of occurring light is provided by analogue electronics and output as an analogue signal. The laser bean for the optoCONTROL 1202 laser micrometers is output from the optical transmitter as a parallel aimed laser beam. The laser line strikes a CCD array in the receiving optical system. The amount of light collected by each of these receiving elements during the integration times is read out separately as analogue voltage and stored as a digital value in a data field after analogue-to-digital conversion. If there is a non-transparent measurement object in the laser line, only the receiving elements of the line outside the shadow zone of the measurement object are illuminated. optoCONTROL 1220 series is specifically designed for measuring edges, diameters and gaps of up to 2000mm. optoCONTROL 2500 consists of a sensor unit and a controller. The sensor unit comprises a laser light source (transmitter) and a CCD camera (receiver). The optoCONTROL 2520 is a high performance, self contained laser micrometer with integrated controller and many programmable functions. optoCONTROL 2600 is an optical measuring system with integrated high resolution CCD camera.

Advantages:
– High accuracy and measuring rate;
– High resolution;
– Wear free measurement for long service life;
– Different models for numerous application areas.
For more details pleases download product brochure
here
.
Optical micrometers can be used for:
– Dimensional measurements in production, quality assurance, and service tasks;
– Factors such as the diameter, gap, height, position;
– Position and assembly monitoring on automatic assembly machines and conveyor systems;
– Received amount of light or opacity can be measured.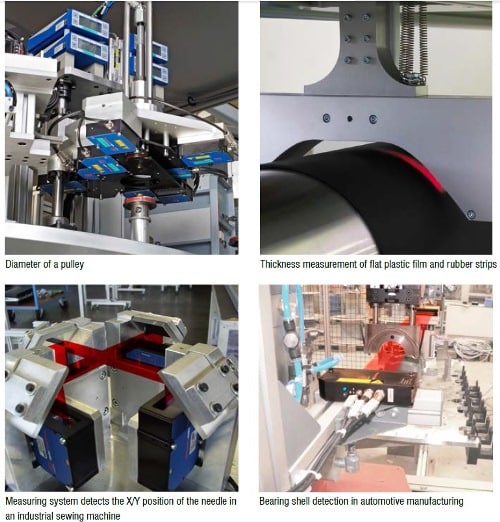 For more information, CONTACT US now with your application details.
Please complete the enquiry form below for specific information and advice on Fixed optics micrometer.
Fields marked with a '*' are mandatory and must be filled.