Eddy Current
Eddy Current sensors are competitive in applications requiring distance, displacement or position measurement of electrically conductive targets in harsh industrial environments due to its tolerance to oil, dirt, dust, moisture, interference fields, and etc. The measurands can possess ferromagnetic or non- ferromagnetic properties, and the smallest possible dimensions are measurable by our miniature/subminiature sensor products whilst still achieving high precision results. Eddy Current sensors from Micro-Epsilon are the only ones with active temperature compensation and field calibration capabilities to ensure optimum signal stability, extreme reliability and accuracy to carry out measurement over large temperature ranges (-50℃ to +235℃).
Products
Measuring ranges
Resolution
Linearity
Traits
Compact eddy current sensor with integrated electronics eddyNCDT 3001
2 / 4 mm
0.1 % F.S.O.
±0.7 % F.S.O.
– Ideal for OEM applications – Compact M12 sensors with integrated controller – Frequency response 5kHz (-dB) – Temperature compensation up to 70 °C – Easy to use (plug & play) – IP67
High Performance inductive eddy current system eddyNCDT 3060/ 3061
0.1-4 mm
0.005 % F.S.O.
±0.2 % F.S.O.
– Resolution max. 0.025 µm – Combination of resolution, linearity and temperature stability – Robust system design – Easy integration with Fieldbus and modern signal processing – Easy to use – 5-point calibration feature
Industrial multi-functional single channel eddy current sensor system capaNCDT 3300
0.4-80 mm
0.005 % F.S.O.
±0.2 % F.S.O.
– Resolution max. 0.02µm – Linearity max. 0.008mm – Multifunction Controller with LC Graphic Display – Robust sensors to IP67 – Up to 3 configurations can be stored – Frequency response up to 100kHz – Suitable sensor for factory automation
Compact single or dual channel eddy current sensor system capaNCDT 3700
0.5-6 mm
0.000018% F.S.O.
±5 % F.S.O.
– Resolution max. 0.09 nm – Linearity max. 0.0025mm – Miniaturized design – Ideal for OEMs customization – High resolution
eddyNCDT ECT for extreme harsh environment
– Inorganic materials enables free shape of the sensor design – Suitable for use in applications where there are strong vibrations or shocks, in electromagnetic fields or in vacuum conditions – High temperature up to 350℃
| | |
| --- | --- |
| Measuring range | 0.4-80mm |
| Linearity | ± 0.2%…± 5% F.S. |
| Resolution | 0.000018%…0.005% F.S.O. |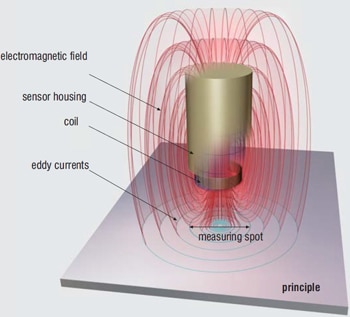 Eddy-Current sensors are designed based on electromagnetic induction and magnetic fields are created in and around the sensor and the target. The eddy current probe develops an alternating current in the sensing coil at the end of the probe which creates an alternating magnetic field with small induced currents in the target material; these currents are called eddy currents. The eddy currents create an opposing magnetic field which resists the field being generated by the probe coil. The interaction of the magnetic fields is dependent on the distance between the probe and the target. As the distance changes, the electronics integrated to the probes sense the change in the field interaction and produce a voltage output which is proportional to the change in distance between the eddy current sensor and target.
Eddy-Current sensors
are noncontact therefore non-destructive instrument capable of highest resolution and linearity for distance and position measurement of any conductive targets. Due to the design principle, those eddy current sensors are very reliable in harsh industrial environments and present excellent stability in a wide temperature range. eddyNCDT series sensors present unique temperature compensation and field calibration functions enabling the best practice of temperature interference thus these sensors are indispensable in industrial operations.

Highlights:
High precision and resolution
Noncontact and wear free
Tolerance to dirt
Suitable for fast testing applications
Very good price/performance ratio
For more information, please
download
product brochure.
Please view our PDF brochures relating to this product.
More application portfolio please
click here
.
For more information, CONTACT US now with your application details.
To view the brochure, you will need to have a PDF reader. If you don't have one installed, please download a free copy from the
Adobe PDF Reader
site.
Please view videos relating to this product.
Please complete the enquiry form below for specific information and advice on Eddy Current.
Fields marked with a '*' are mandatory and must be filled.