Low Pressure Differential
Low Differential Pressure Transmitter and Transducers are mainstream products finding applications in airflow and air consumption, ventilation and HVAC, calibration wind tunnel, cleanroom control, kiln control, draught measurement, aircraft & missile flight and ground test, leak testing component, for non-corrosive or aggressive liquids and gases. Goals setting for enhancing measurement accuracy, simplifying operation and lowering the costs can be achieved by utilizing differential low pressure sensors.
| | |
| --- | --- |
| Pressure ranges: | 5/10/±50/±100/±150/±250/±500 Pa 1/2.5/5/10/20/50/100 kPa |
| Line Pressure: | 0.1-6 bar -1..10 bar Up to 345 bar |
| Operating Temp.: | -10 to +60 °C |
| Accuracy: | 0.1-0.5% of reading |
| Output: | 0-20mA/4-20mA 0-1V/0-10VDC/±1V/±5V/±10VDC |
| Protection: | IP50/IP54 rated ABS/IP64/IP65 ATEX/IP66 |
| | |
| --- | --- |
| Measuring range | 0.1-6 bar/-1…10 bar/up to 345 bar |
| Accuracy | 0.1-0.5% of reading |
| Output options | 4-20mA/0-20mA 0-1V/0-10V/±1V/±5V/±10Vdc |
| Connectors | Wide range of process & Electrical connection |
In the past decades, pressure transmitters have been improved significantly through different technologies and approaches that result in lower power consumption, suitability for different material, smaller size and weight, and fast response with high reliability, sensitivity, accuracy and repeatability. Below pictures and graph show different possible pressure references to adjust the pressure transmitter based on them.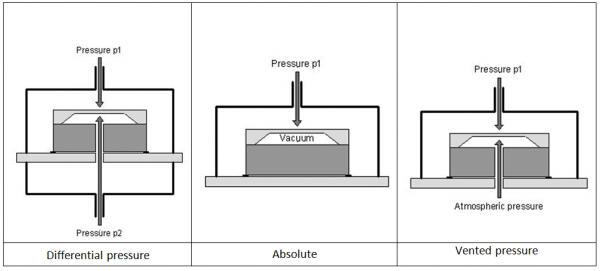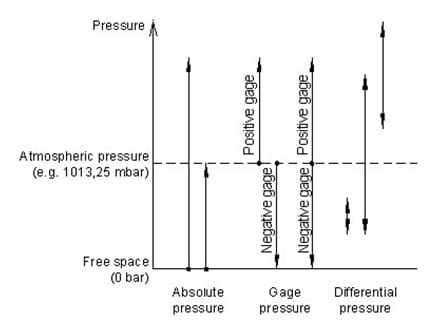 There are different approaches used to measure pressure. These approaches are mostly based on special requirement of customers and advantages of the technology executed.The most common sensing technologies used today are Force collector types, Piezo-resistive and Piezo-electric, Electromechanical Strain Gage, Variable Capacitance, Electromagnetic as well as optical fibre sensing.Force collector types are electronic pressure sensors using a force collector component, such as diaphragm, piston, bourdon tube, and/or bellows, to measure the strain caused by the applied force over an area, therefore, measure the pressure

In respect of Piezo-resistive effect, Piezo-resistive material such as silicon, molecularly diffused onto a metal or micro-machined diaphragm, is used to detect strain generated by the applied pressure. Similar to strain gauge-based pressure transducers, Wheatstone bridge circuit is formed to maximize the output sensitivity of the sensor.

Bestech Australia distributes Ultralow-Low Differential Pressure Transmitters and Transducers from Furness Controls, Halstrup Walcher, and Validyne to meet a wide variety of customers' demand for laboratory and industrial applications.Furness Controls manufactures ultralow range (0.01Pa – 20kPa) differential pressure measuring instruments for the increasing range of applications from dirty environments, power generation, steel, cement, brick, glass etc., to ultra clean environments for medical, pharmaceutical, nuclear and semi-conductor application. These can be wall mounted, pipe mounted, panel mounted and ATEX approved. Nevertheless, users seek high quality products for air and gas velocity and volume flow measurement, calibration of ultralow differential pressures as well as leak testing equipment will be gratified.Halstrup Walcher's small differential pressure transmitters work according to an inductive measurement principle and are designed for non-aggressive, gaseous media. They are perfect for positive or negative differential pressures and for either symmetrical or non-symmetrical measuring ranges. Various display units as well as highly accurate pressure calibrators with internal pressure generator and portable battery operation for service applications are also available.Validyne differential low pressure transducer using Variable Reluctance Technology can meet particular customer specifications, or OEM's. For OEM's, complete designs from the ground up are available.For more details please download
Furness Controls
,
Halstrup Walcher
and
Validyne
product catalogue and datasheets.
Clean Room Control
– Sterile Rooms in Pharmacies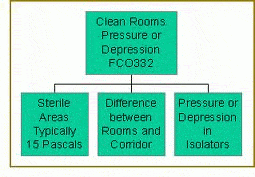 Maintaining sterile areas in the manufacture of drugs and medicines is an essential part of meeting the needs of the FDA and equivalent European standards. Complex control systems exist to control a suite of rooms with separated environments allowing safe manufacturing conditions. The FCO332 Differential Pressure Transmitter is the ideal instrument for measuring and controlling the difference in pressures between rooms.
Heating, ventilation and airconditioning
– Pressure transducer provide a breath of fresh air to every seat
There is no more majestic sight. The Airbus A380 is the current king of the skies. Years of painstaking work have been invested in ensuring that all its passengers are able to enjoy a pleasant atmosphere in the cabin and perhaps even feel like minor royalty themselves. The Experimental Fluid Mechanics Division at Airbus in Hamburg-Finkenwerder has put its trust in PU pressure transducers from halstrup-walcher for many years. These were used to perform several series of measurements during the preparation of the design and planning of the air-conditioning and ventilation system of this giant. These experiments measure air flows as well as dynamic and static pressures in the pipe system and at the individual components. The reliable transducers are designed for use with air and inert gases and work according to the principle of inductive measurement – taking measuring technology to new heights.
Radon Gas Detection in Residences
– DP103 Validyne Very Low Pressure Variable Reluctance Sensor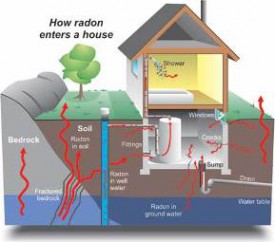 Radon is a toxic, naturally occurring gas that is thought to accumulate in residence basements. Radon gas is the byproduct of the breakdown of soil containing small concentrations of naturally occurring radioactive isotopes. Soil derived from granite and other igneous rock typically produces radon, and this gas could conceivably make its way into a residential basement through cracks and fissures in the concrete slab. Does this actually occur? To test the radon gas hypotheses, a major university conducted testing designed to determine under what conditions radon could actually accumulate in a residential basement. Several concrete vaults were installed in granitic soils. To facilitate the entry of radon, a series of radiating probes were drilled outward from the vault and fitted with screens. A radiation detector was installed inside the vault to indicate the presence of radon gas. The radon gas will only flow into a basement if the pressure inside the house is lower than the ambient atmosphere. This condition is thought to be possible because houses are typically warm inside and a lower pressure will occur, especially during the winter months in cold climates. To simulate this very small pressure difference, the vaults were sealed and an exhaust blower was used to control the inside pressure. A very sensitive pressure transducer was needed to sense the very small pressure difference between the inside of the vault and the ambient atmosphere. This pressure difference might be equal to just a few hundredths of an inch of water column.
More applications……
Facility Management
Furnace Control:
Stable furnace draft pressure measurement
Vacuum control in furnace curing
Detect Burner flame instability
HVAC Measurement:
Finding hot spots in an enclosure
Reducing glove-box filter costs
Medical/Pulmonary:
Pulmonary pressure measurement
Product Testing/Process Control:
Pressure drop across protective mask
Measuring vacuum
Soil & Core Testing:
Radon gas detection in residences
Petroleum core testing
For more information, CONTACT US now with your application details.
Please complete the enquiry form below for specific information and advice on Low Pressure Differential.
Fields marked with a '*' are mandatory and must be filled.