Confocal
Confocal Chromatic displacement sensors are applicable for distance and one-sided thickness measurement. The advantages of large tilt angle and stand-off distance allow distance measuring in small cavities, bores and many application fields. Particularly, for shiny and transparent objects, any diffuse and specular materials including film, liquid, glass and polymer, the confocal sensors can perform high precision and multi-layer measurement.
| Products | Measuring ranges | Resolution | Linearity | Traits |
| --- | --- | --- | --- | --- |
| Confocal miniature sensor IFS 2402 | 0.4-10mm | 0.004% F.S.O. | ±0.08% F.S.O. | – Linearity max. 0.3µm; – Resolution max. 0.016µm; – Unique miniature Ø4mm; – Bore hole measurement; – Robust design. |
| Confocal hybrid sensor IFS 2403 | 0.4-10mm | 0.004% F.S.O. | ±0.08% F.S.O. | – Linearity max. 0.3µm; – Resolution max. 0.016µm; – Hybrid design; – Increased base distance; – Titanium housing. |
| Confocal Displacement Sensor IFS 2405 | 0.3-30mm | 0.01% F.S.O. | ±0.05% F.S.O. | – Linearity max. 0.3µm; – Nanoresolution max. 0.01 µm; – Extremely small and constant spot size; – High precision measurement, also for mirrors & glass; – One-sided thickness-measurement. |
| Confocal Displacement Sensor IFS 2406 | 2.5mm | 0.001% F.S.O. | ±0.03% F.S.O. | – Linearity max. 0.75µm; – Resolution max. 0.024 µm; – Distance & one-side thickness measurement; – Small light spot; – Vacuum compatible sensor. |
| Confocal sensor system boreCONTROL | 4-10 mm 10-16 mm | 0.0002% F.S.O. |       – | – Detection of diameters, roundness, concentricity, straightness, gaps and steps; – Interior wall inspection of bore holes; – Intensity analysis; – Optical temperature compensation. |
| | |
| --- | --- |
| Measuring range | 0.12-30mm |
| Linearity | ± 0.05%; ± 0.08% F.S. |
| Resolution | 0.0002%…0.01% F.S.O. |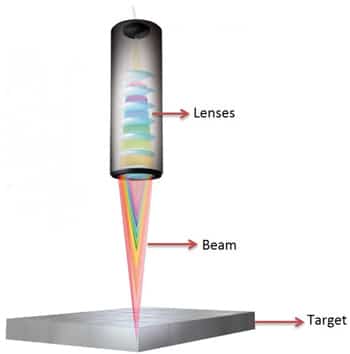 Polychromatic white light is focused onto the target surface by a multi-lens optical system. The lenses are arranged so that the white light is dispersed into a monochromatic light by controlled chromatic aberration. A specific distance to the target is assigned to each wavelength by a factory calibration. Only the wavelength which is exactly focused on the target is used for the measurement. This light reflected from the target surface is passed through a confocal aperture onto a spectrometer which detects and processes the spectral changes.The sensors are designed for passive measurements and do not need any electrical components. This allows for measurements in difficult environments, such as potentially explosive areas. These sensors do not give off heat, which makes them suitable for use in sensitive environments.This unique measuring principle enables displacement and distance to be measured with high precision and extreme spatial resolution. Both diffuse and specular surface can be measured. With transparent materials a one-side thickness measurement can be accomplished along with the distance measurement. Since the emitter and receiver are arranged in one axis, shadowing is avoided. Compare to conventional triangulation sensors, the confocal sensor system which consists of a controller, a sensor and a fibre optical connecting cable up to 50m, is able to measure in narrow apertures as well as small gaps and cavities.
The latest high end controllers of the confocal chromatic measurement technology offers a very good signal-to-noise ratio allowing 10kHz measurement rates using a white light LED and 70kHz using a xenon light source. The data outputs are optional with Ethernet, EtherCAT, RS422 or analog.The confocalDT 2451/2471 from Micro-Epsilon are applied in challenging measurement tasks regarding the distance and thickness measurement.To analyse multi-layer objects, a multipeak software is available.
Highlights:
Wear free measurement and passive sensor design;
Highest precision with submicrometer resolution;
Fast surface compensation;
Adjustable measuring rate up to 70 kHz;
Displacement and/or thickness measurement (specially for both diffuse and reflecting surface);
Tiny measurement spot;
Configuration via web interface.
For more information, please
download
product brochure here.
Please view our PDF brochures relating to this product.
click here
.
For more information, CONTACT US now with your application details.
Please view videos relating to this product.
Please complete the enquiry form below for specific information and advice on Confocal.
Fields marked with a '*' are mandatory and must be filled.