Thermogravimetric Analysis (TGA) & Thermogravimetry (TG)
Thermogravimetry is techniques used to characterize materials that exhibit weigh loss or gain due to decomposition, oxidation, or dehydration.
The measuring principle of Thermogravimmetry analyser is: a thermobalance is used to measure the mass change of a placed sample as a function of temperature or time under a defined and controlled environment with respect to heating rate, gas atmosphere, flow rate, crucible type, and etc.
The TG plot below shows the decomposition of calcium oxalate monohydrate, CaC2O4*H2O, in air at a heating rate of 10 K/min. The decomposition occurs in three mass loss steps with the release of water (12.3%), carbon dioxide (30.1%). The corresponding 1st derivative of the TG curve, DTG, provides the decomposition rate and is helpful for evaluating the mass loss steps accurately.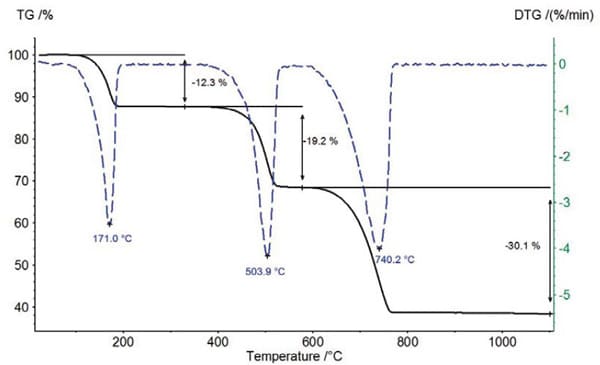 NETZSCH instruments for thermogravimetry have a compact design and are equipped with high-resolution balance systems. The top-loading sample arrangement allows for easy operation and measurement of the temperature directly at the sample. NETZSCH thermobalances have vacuum-tight design and allow for measurement of mass changes under defined atmospheres.
Heated coupling adapters for gas analysis systems can be added on to the thermobalances. TGA is used in R&D of various solid or liquid engineering materials and substances that finding broader applications in the fields of quality control and assurance of raw materials, failure analysis of finished parts in polymer processing industry, organic chemistry, pharmaceuticals, cosmetics and food industry etc.
Highlights:
Thermo-Microbalances & Thermo-Nanobalance;
Top loading, vertical design enables easy operation and sample loading
Evolved gas analysers
Automatic sample changer (ASC)
For more details, please download the product overview and Proteus 6.0 Measurement and Analysis Software
Please view our PDF brochures relating to this product.
For more information, CONTACT US now with your application details.
Please view videos relating to this product.